Repeated clothes returning is happening all over the shop.
So much so online retail giant ASOS are clamping down on serial offenders.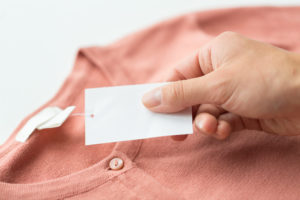 Muireann asked her listeners in an anonymous poll if they've ever partaken in buying clothes and then not tagging off and this was the result
For today's #UpThePoll @MuireannO_C is asking:

Have you ever bought an item of clothing, kept the tag on, wore it, and then returned it? 👚👗👖📮

This is after the news that Asos is cracking down on serial returners.

If you have further comments. Tell us below 👇

— Today FM (@TodayFM) January 29, 2019
So 88% of Muireann's listeners are pulling a Shaggy and claiming "It wasn't me!"
But sometimes the clothes just don't suit you, right?
Here are some confessions from Muireann's listeners...
Lads my wife Karen has the machine that puts the tags on!!! 
She buys, wears and returns loads!
Muireann, on the flip side of the wearing clothes thing. I have a friend who brought a brand new dress to an alteration shop to be shortened, tags still on, never worn. When she got it back it had sweet wrappers in the pocket and it smelt of perfume and B O. Alteration shop completely denied it. - Maria
I was in shop buying a pair of jeans last year and tried them on. Put my hand in pocket and there was €50 in pocket. Whoever returned them forgot it

.

 I gave it to enable Ireland! - Louise
I've never bought something, worn it then sent it back. I think it's a bit cheeky actually. Chances are the shop can't put it back out as it will be dirty. Even if only work for a couple of hours it would smell of your perfume and possibly have make up on it. The thoughts of buying jeans or pants that someone else has worn gives me the heebie-jeebies. - Vanessa
I once bought a George Forman grill cooked a fry on it cleaned it an returned it to Argos for a bigger one - John in Kilkenny
Muireann I got caught rapid years ago...bought a pair of Levis jeans when they were the rage...brought them back, didn't like them. Shop assistant asked did I wear them. I swore I hadn't...then he asked why was the tag on the incorrect bum pocket...I said "Oh yeah I took tags off, stapled them back on", incorrectly obviously...but still swore I hadn't worn the jeans...he then put hand into pocket and pulled out a fiver and a cinema ticket...I was morto...then I said "oh yeah I just wore them that one time...." he gave me a full refund...sound lad!! - Nicola