"He was a force of nature. Amazing live"
Following the tragic and untimely death of the original Firestarter himself, Keith Flint, listeners to the Muireann O'Connell show shared their memories of The Prodigy frontman.
Keith was part of the original line-up that included –main man Liam Howlett, Maxim and Leeroy.
They were the soundtrack to many Irish people's teenage years and beyond.
Along with Fatboy Slim and The Chemical Brothers - The Prodigy owned the dance scene in the 90s.
They are best known for Experience (1992) Music for the Jilted Generation (1994) The Fat of the Land (1997)
And we were reminded just how huge TFOTL was when it was released in Ireland:
They went from selling 7,000 12in copies of their first EP to 10 million copies of their third album. When The Fat of the Land was released it was such a big deal that @TodayFM (then Radio Ireland) played it from start to finish without interruption. #RIPKeithFlint

— Mark Kavanagh (@djmarkkavanagh) March 4, 2019
They had 11 Top Tens in Ireland. No strangers to these shores they headlined some massive gigs here including The Trip To Tipp in 1994, 1995 & 1997, and supported Oasis at Slane in 2009 and most recently played Electric Picnic in 2018. 'Breathe' was their only number 1 in Ireland but 'Firestarter' and 'Everybody In The Place' came close reaching number 2. Firestarter was kept off the Top Spot by none other than 'Aon Focal Eile' merchant Richie Kavanagh.
Lots of you shared your memories:
Devastated over this, my first concert was trip to tipp that they headlined, I went just to see them! He had incredible energy, such a showman!

— Sandra Cashman (@sandracashman18) March 4, 2019
Muireann, oh no! Just awful. saw them live in 1996. What energy. Incredible. Very sad.

— Gavin O'Connor (@gavinoconnor) March 4, 2019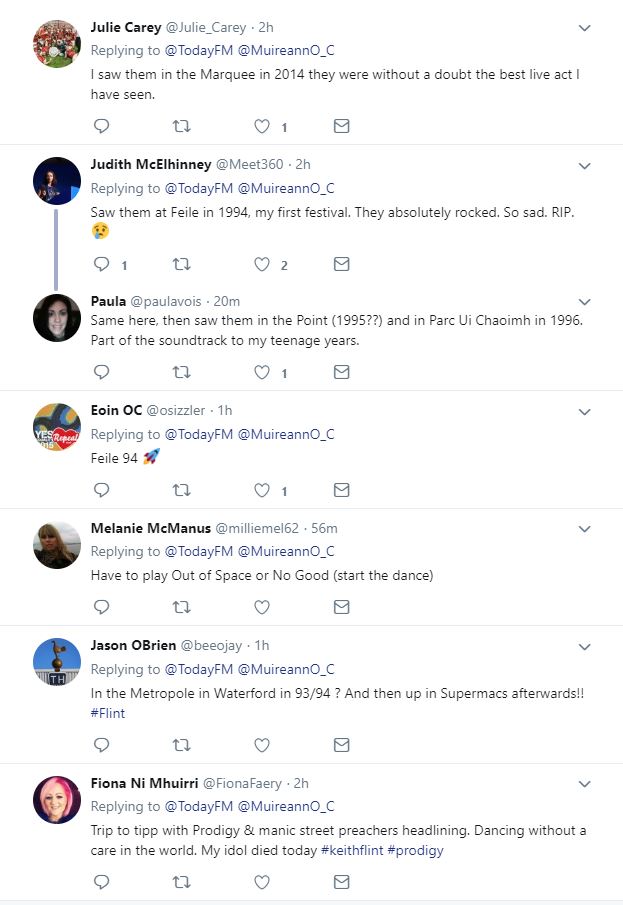 He clearly also had a cracking sense of humour:
Absolutely LOVE this: 👇

Keith kept a swear jar in his pub for anyone who made a comment when he put logs on the fire!! 😂 🔥 #KeithFlinthttps://t.co/EQCIw5Nw8M

— Today FM (@TodayFM) March 4, 2019
Our own Dec Pierce was hugely influenced by Keith:
I've been dreading this day. Listening to 'Experience' as a kid in my bedroom on cassette made me want to be a DJ. I idolised Keith. His long hair, his Firestarter hair, the way he spat lyrics, danced, MC'd. The full radio show this weekend is for you. RIP Keef 😞 #KeithFlint pic.twitter.com/vJUUiUXsDq

— Declan Pierce (@DecPierce) March 4, 2019
Sitting in my bedroom huddled against the radio trying to get a decent signal from Sunset FM and listening to tracks from Experience. 27 years following that band. Absolutely devastated.

— Gerard Ryan (@TheBearRyan) March 4, 2019
Badly rocked by that news.
The Prodigy first got me into dance music with Experience and their Point depot gig 1994ish was my first proper concert, glad i caught a Keith Flint in full effect at EP last year, RIP

— Kevin Meskell (@MeskellKevin) March 4, 2019
Absolutely gutted, saw them first time live in the Mansion House, loved his ripple hairdo, that's a great pic with himself Liam and Leroy 😔

— Melanie McManus (@milliemel62) March 4, 2019