Joining Mario for the Story Behind The Song was "The Beat Goes On" presenter on Today FM Saturday and Sunday nights , Kelly-Anne Byrne.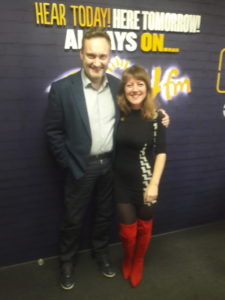 The song was "Gimme Shelter" by The Rolling Stones - the year 1969 and the album was "Let It Bleed".
This song tells us about the political and social unrest at the time. There was the war in Vietnam,riots, and Charles Manson. Keith Richards wrote most of this song, the band were recording late at night in Los Angeles when they decided to use a female vocalist to sing with Mickon the track. Merry Clayton was the lady in question - she got the call , was reluctant to go as she had never heard of the band  but she showed up with curlers in her hair wearing silk pajamas, and Mick then explained to her that she's be singing the line, "Rape, murder, it's just a shot away."
She did a take of her line, then decided to "blow them out of this room" on the next take. She took the house down by taking the vocal an octave higher, her voice cracking on "murder."
The song never charted but has been noted as one of The Rolling Stones finest work, and used in 3 of Martin Scorsese`s movies.
Mario however has a different story to this song, he thinks of it as his "strutting" tune, for those times when he`s walking to Spar and thinks that he just might be in a movie scene - carrying his twix and slimline milk as the Spar blows up behind him!
Check out the the full chat by pressing the play/listen button on screen.