Dermot Kennedy hasn't stopped. Since he hit the charts it's been a constant tour of live gigs, studios and festivals all over the globe.
It took a pandemic for him to press pause and take stock.
It's been mental and very strange and we 're just trying to stay creative and figure it out. I am sad I can't play my gigs but what is happening is more important than me and my gigs. It's been the longest time I've been able to stay at home in a few years. Now it feels like being back in college days...can't get a gig and sitting at home playing Playstation. This time has been very valuable to let the amazing things I've done just sink in! But, I still cannot wait for next year when I'm back singing live!
He has mesmerised the world with his outstanding musicianship, the honesty of his lyrics and a voice that comes directly from his soul.
"A colossal voice…Kennedy wears his heart and guts on his sleeve to powerful effect."
The Guardian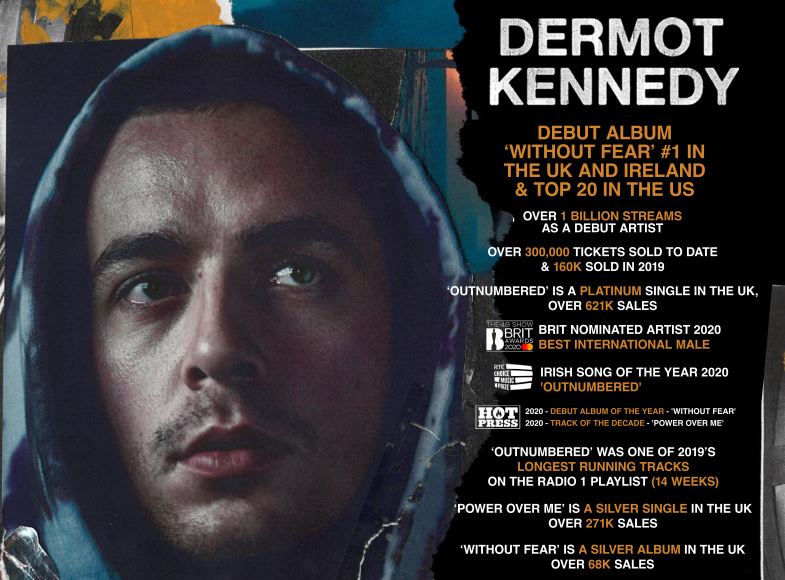 Dermot Kennedy is now a global superstar. However, he is still the sound thoughtful Dublin lad with his guitar, "it's a beautiful thing to have people listening to your songs. There was a time when there was nobody listening."
Dermot Kennedy chats to Pamela Joyce about how lockdown is like his days in College "looking for gigs and sitting down at the playstation!" He talks about the songwriting process.  How he is in awe of "artists like Kendrick Lamar who can just bust out 4 or 5 tracks in one day in studio! Trying to give the mastery of yourself against time" " It's a process he says he is still learning.
He also reveals the moment he felt like he adulted and it's a lovely little thing that has kept him sane in this turbulent time.
He says, "normal life has evaded me for so long but this little thing is what I love it's class!"
Pamela also asks him to respond to some of the stranger Tweets people have posted about him!