It has been an absolutely phenomenal couple of years for Tones And I.
Most Shazam'ed single of all time

1 billion+ views on Youtube

Most streamed song ever by female artist on Spotify

Nearly two months at Number 1 in Ireland (13 x Platinum)
Winner of the 2020 International Songwriting Competition
In the US "Dance Monkey" became the first top 5 hit solely written by a woman in over eight years.
Most weeks ever at No.1 for an artist in her home country of Australia
And it is Down Under where The Fergal D'Arcy Show caught up with Tones.
FROM LOCAL BUSKER TO GLOBAL SUPERSTAR
But if you think the stats above are impressive then you will jaw drop further when only two years ago she gave up her job in retail, jumped in her car and went to Byron Bay to busk.
Living out of her car she never stopped giving up on her dream to perform and play.
She is what Irish people would call a tonic and is as Aussie as they come. Very self-deprecating...
"maybe if I got singing lessons when I was young then I wouldn't sing like a bloody chipmunk now! Can I say though that I bloody loved playing in Ireland it was the best show on my tour and I can't wait to be back"
One of our own. Tones Agus Mise!
The very funny and honest Tones joined The Fergal D'Arcy Show to celebrate her brand new single 'Ur So F**kInG cOoL'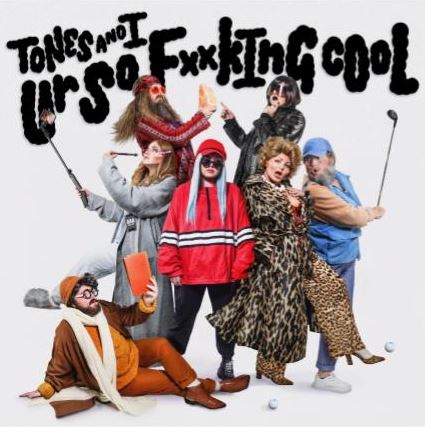 Check out the video. Once again she plays all the personas. As she describes in the interview she's a "I just LOVE messing with latex for hours"...not!
We're glad she did though as the effect is brilliant:
And the behind the scenes reveals the slog!