You could be €5,000 richer by the weekend and entering couldn't be easier.
Just tell us the answer to this question.
Which of these artists performed at the 2021 Superbowl half-time show?
A) The Saturdays
B) The Weeknd
If you know the answer text 'WIN' plus your answer A or B to 57599
(e.g. if you think the answer is 'a' 'The Saturdays' - Text Win followed by 'a' to 57599)
Example: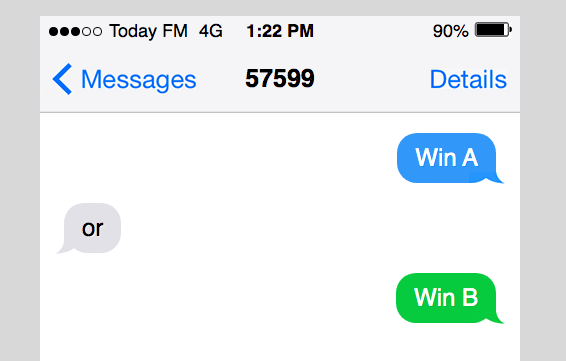 Texts cost €2.50 and you must be over 18 to enter. Lines close this Friday 26th February at 10am when we'll announce the winner on Dermot & Dave.
Full terms and conditions below.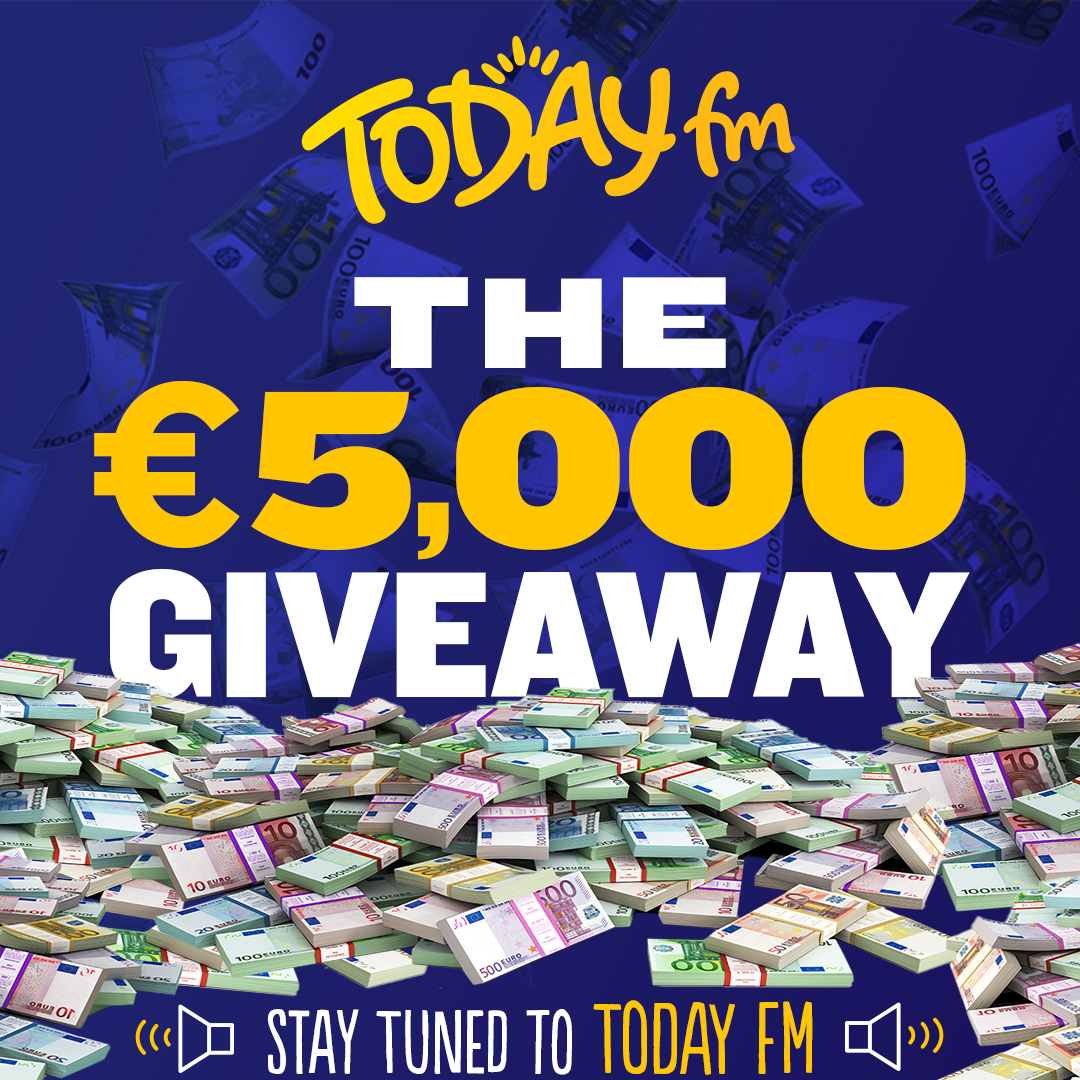 Terms and Conditions
We will be doing a same day bank transfer so the money will be in your account on Friday afternoon.
Key Dates. Start Date and time: 22/02/21 07.00. End Date and time: 26/02/21 10.00. Any entries received before / after these dates will not be counted but you may still be charged.
2. Restrictions. Only open to people who: (i) live in the Republic of Ireland; (ii) are 18 years or over at the date of their entry; and (iii) are not one of our employees (or living with one of our employees).
3. How much it costs. You are responsible for all costs associated with entering this competition. Texts cost €2.50 (from the ROI) + standard network rate. You must have permission from the bill payer before sending.
4. Bounce-backs. Once you have sent an entry text, you'll receive an auto-response confirming your entry.
5. Draw details and winner announcement. Within 1 hour of the competition end date, one winner will be selected by electronic random draw. They will be contacted personally (as soon as possible and at least within 30 days of the end date) and winner will be announced as soon as possible on air once we have contacted the winner
PRIZE DETAILS
6. Prize details. Prize money will be paid in cash, by bank transfer or by cheque, with payment subject to the winner providing photo ID and proof of address. Our prizes are always non-transferable and (unless the competition is for a cash prize) cannot be exchanged for cash.
7. Personal Data. Any personal data relating to competition entrants will be used in accordance with current Irish data protection legislation and best practice. Please see Today FM's Privacy Policy for further details. Data relating to entrants will be retained by Today FM for a reasonable period after the competition closes to assist Today FM to operate competitions in a consistent manner and to deal with any queries.
8. Recording consent. We will sometimes (at our discretion) telephone the winner and ask them to speak on-air. You consent to your voice being recorded when this happens and to this recording being used on our radio broadcasts. You agree that we will own this recording and that a copy of it will be stored for further exploitation, which may include promotion. Whilst on-air, you promise not to make any statement which is offensive or inappropriate or which would cause harm to Today FM or its listeners. You will not be put through to speak on-air if we think you are driving, intoxicated, or likely to swear/otherwise offend our listeners.
9. Other conditions. We will only accept entries that comply with our Terms And Conditions, and we may disqualify you if we know or suspect that you have breached them. Our decision on the selection of the winner is final and we will not engage in any correspondence or discussion about this, or about the operation of this competition. We are not responsible for any network or technical issues you experience, such as latency of your mobile phone network, which may delay or prevent your participation. We have the right to cancel, amend, terminate or suspend this competition if forced to do so due to circumstances outside our control.
10. Contact details. The promoter of this competition is Today FM, Marconi House, Digges Lane Dublin 2. If you have any questions, please email: info@todayfm.com putting the competition name in the subject line. We cannot consider any queries made more than 14 days after the date the winner is announced.
11. Full Terms And Conditions apply. Please see: https://www.todayfm.com/competitions-terms-and-conditions
12. Network Operators: The following network operators restrict access to this competition: An Post, GoMo, Lycamobile and 48.