As the old saying goes, the kitchen is the heart of the home.
From preparing meals for family, to baking with the kids and entertaining friends. Your kitchen is an important space that needs to feel homely, but also be functional at the same time.
When you're planning your dream kitchen there are lots of factors to consider, it can be overwhelming! So we reached out to the experts at Cash & Carry Kitchens.
Marie Browne,  National Showroom Designer for Cash & Carry Kitchens, shares her top tips to make your vision come to life.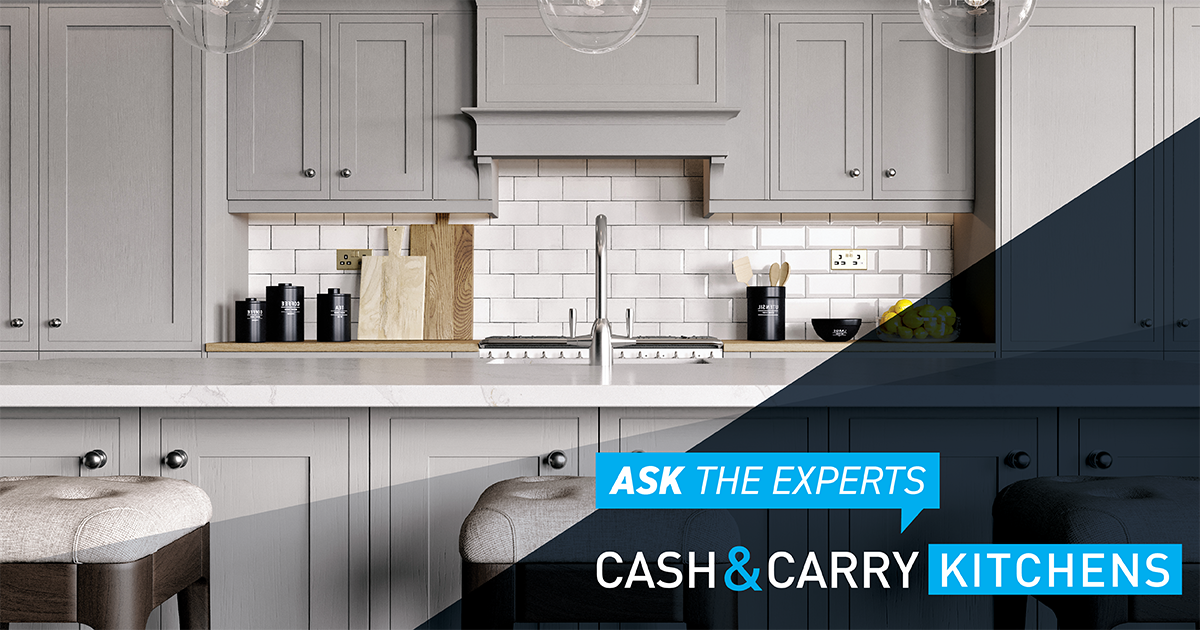 Marie believes that your kitchen should be based on what works for your personal home.
"As an expert designer with Cash & Carry Kitchens for the last ten years I can confidently say I love the small details, but I know the fundamental elements: space, door aesthetic, worktops , appliances, and fitting will carry the design."
Her first tip; don't get lost in the details until you have the basics in place.
Check out the rest of Marie's expert advice below.
Space
The space available in the home will influence the overall kitchen design, so utilising it in a way that suits your needs will be important.
To make sure you have the best layout, discuss with your designer how you intend to use the kitchen. Are you primarily cooking with the hob at night and therefore need worktop for the prep and chopping? Or does baking for your family mean extra storage for supplies and pans? Or it could be the kitchen is a spot for snacks and homework with the kids and you need to incorporate seating?
By having an awareness of how you use the space you will make better decisions during the consultation on the layout selected and ultimately end up with a kitchen design that is perfect for your home.
 

View this post on Instagram

 
Door Style
The aesthetic of the kitchen is important to showcase your personality in the home. The problem can be you may fall in love with more than one style of kitchen, and that's okay!
I would always suggest to clients to create a mood board of your favourite kitchens, they can be different, but what you will see if you review them is that there will always be common denominators. Maybe you start to notice that all the worktops are white, or that the doors are all a bold colour, or maybe they all fit in a genre of cottage or shaker style.
Once you pick up on a few details that match and you pull them out to be main selections the rest of your choices will fall into place, one decision always leads to another in design.
 

View this post on Instagram

 
Worktop
Worktop is key to the kitchen design, it's the most used part of your kitchen, and as a rule of thumb the more you have the better working the kitchen!
That being said, space can be tight, and so I would prioritise ample worktop surrounding the work zones, that means be sure that there is plenty around the sink and plenty around the hob. If you are lucky enough to have worktop areas outside of these two zones, make sure they don't become a drop for clutter by considering ahead the purpose of the space. I love to add dry islands that are great entertainment zones, or a hidden worktop in a pantry unit for appliance docking stations.
Just remember the worktop is one of the hardest working areas in the kitchen, so if you go with a great budget worktop like a laminate, a popular selection with our clients, protect it with chopping boards and trivets to extend the life of the worktop.
 

View this post on Instagram

 
Appliances
When starting fresh with a new kitchen in a home it's a clean slate to go out with the old and in with the new. What I mean is let go of any antiquated ideas of what appliances you think you may need and talk to the designer about what is currently available on the market, ask what appliances have come out to solve cooking needs.
For instance, right now downdraft hobs are the "it" appliance, combining two appliances in one and leading the market for innovation. Another example is how you can now turn your sink area into your right-hand man in the kitchen, and no I am not saying we are selling robot sinks! What I mean is add a household waste disposal to grind down the waste into the water and try out a boiling water tap to eliminate the kettle. You can also purchase a sink that has accessories available like rails and colanders, making the sink a complete workstation.
 

View this post on Instagram

 
Fitting
Each of our 17 showrooms offer a fitting service, it's priced in with the cost of the kitchen and includes a dry fit of our fully assembled units and worktops.
After the initial consultation in which you bring in your measurements and photos to the showroom a fitter visits the home to measure and discuss the plans on site with you. Our showroom design team is open and accommodating, meeting each client as many times as it takes to make the final decisions.
Once the final design is complete in the showroom the plans are sent down to our manufacturing facility in East Cork, and another team of experts look at the kitchen floorplan to ensure all specifications can be successfully installed. This additional safety blanket of having three different teams of experts (our designers, fitters, and plan checkers) gives peace of mind to you that your kitchen is in safe hands.
If you want to plan your dream kitchen check out Cash & Carry Kitchens.
 

View this post on Instagram

 
You can book a free design appointment here and download a brochure here