The Asthma Society of Ireland Love Your Lungs Challenge
Did you know over 380,000 people in Ireland have asthma?
Also, one in five people are likely to develop the condition at some point in their life.
The Asthma Society of Ireland have launched their 'Love Your Lungs' virtual fundraiser, supported by ALK,  as part of Asthma Awareness Week.
It takes place from 1-8 May, 2021 and they want you to get involved.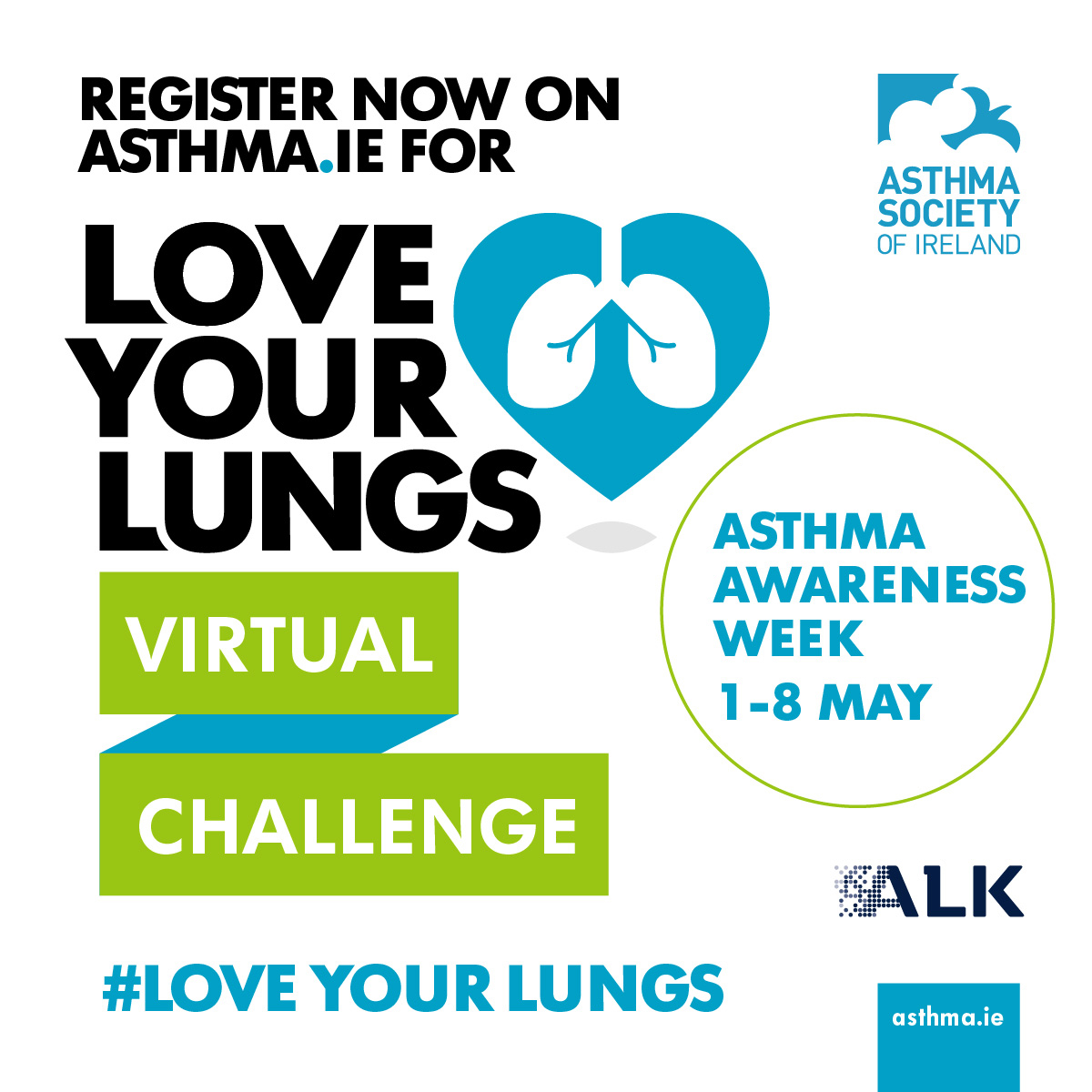 The past year has been a particularly worrying time for those affected by asthma as COVID-19 it's a respiratory illness.
Due to this, Asthma Awareness Week 2021 wants to focus on the importance of good asthma management and controlling the condition.
However, the Asthma Society's fundraising efforts have been hugely affected by the pandemic.
They need support to keep their crucial services such as the Asthma Adviceline and nurse-led WhatsApp messaging services going.
They're asking people to take part in the 'Love Your Lungs' virtual walk and contribute daily steps to their overall goal to fundraise for the Asthma Society.
 

View this post on Instagram

 
How to get involved
Simply register via iDonate here for the entry fee of €15.
Then, during Asthma Awareness Week from 1 - 8 May, challenge yourself to stroll 5,000, 10,000 or 15,000 steps each day, depending on your fitness level.
You can sync your fitbit or log your steps on their dedicated step tracker and contribute towards the goal of 1o million steps across the week.
Get involved on social media tagging @asthmasocietyireland and using the #LoveYourLungs hashtag.
 

View this post on Instagram

 
Asthma Society services
Funds raised during Asthma Awareness Week will help support the Asthma Society's vital services.
The Asthma Adviceline is available on 1800 44 54 64 and allows callers to book a free call back appointment by calling the freephone number between 09:00 and 17:00 Monday to Friday.
The Asthma Society then arranges a nurse appointment at a time that suits the patient.
They also offer a Sláintecare funded Asthma WhatsApp messaging service, which allows patients with asthma, and their family and carers, to text 086 059 0132 for real-time one to one communications with an asthma nurse about all aspects of their disease management.
So do your bit to support these important services during Asthma Awareness Week from May 1 - 8. Find out more here.