Netflix has revealed what is coming to the platform next month.
Here's what Irish users can expect on the streaming platform in August:
Here are some of the top movies coming in August:
Ex Machina  01/08/19
LEGO Friends: Girls on a Mission: Season 2  1/08/19
Black Adder:  Seasons 3&4 15/08/19
Happy Feet  15/08/19
Psycho   16/08/19
8 Mile  16/08/19
Nanny McPhee 16/08/19
The Dilemma  16/08/19
Charlie Wilson's War   16/08/19
Hunter Killer  18/08/19
Mother!   22/08/19
Kingsman:  The Secret Service  24/08/19
Chesapeake Shores: Season 4   26/08/19
Power  :  Season 6  26/08/19
Blade Runner 2049   28/08/19
Here's the full list of what's coming in terms of the streaming services original tv and movie content:
NETFLIX ORIGINAL TV
Dear White People: Volume 3  02/08/2019
As the students of Winchester embrace new creative challenges and romantic possibilities, a charismatic professor shakes up life on campus.
Basketball or Nothing  02/08/2019
Follow the Chinle High basketball team in Arizona's Navajo Nation on a quest to win a state championship and bring pride to their isolated community.
Sintonia  09/08/2019
Three teens living in the same São Paulo favela pursue their dreams while maintaining their friendship, amid a world of music, drugs and religion.
Patriot Act with Hasan Minhaj: Volume 4   04/08/2019
In this weekly show, Hasan Minhaj brings his unique comedic voice and storytelling skill to explore the larger trends shaping our fragmented world.
The Naked Director  08/08/2019
In 1980s Japan, one determined man turned every crushing setback into opportunity. His name was Toru Muranishi, and he revolutionized his industry.
Wu Assassins 08/08/2019
The last in a line of Chosen Ones, a wannabe chef teams up with a homicide detective to unravel an ancient mystery and take down supernatural assassins.
Dollar  08/08/2019
Beautiful executive assistant Zeina reluctantly teams up with self-assured Tarek to chase down an elusive dollar bill worth $1 million.
Cable Girls: Season 4  09/08/2019
Amid social changes in 1931, the friends get tangled in a murder mystery and must work together to solve it before one of them is sentenced to death.
GLOW: Season 3    09/08/2019
As the gang kicks off a run of shows in glamorous Las Vegas, power struggles, sexual tension and shifting priorities threaten their bond.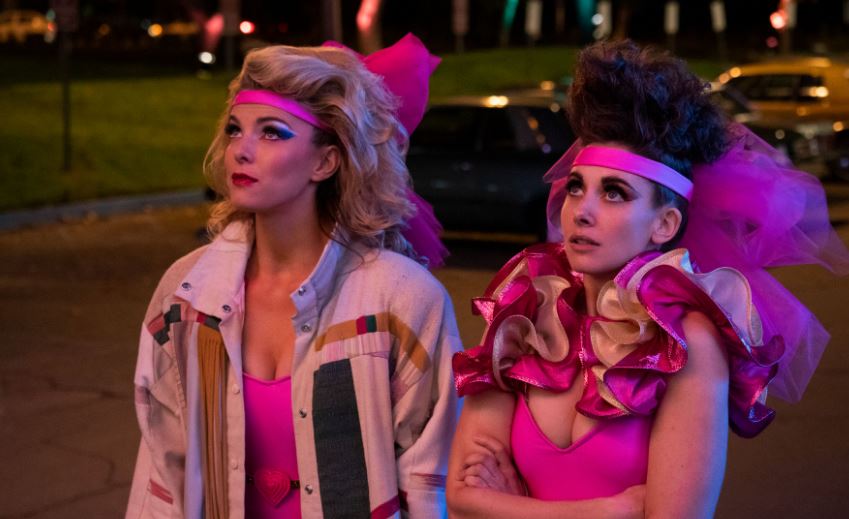 Sacred Games: Season 2  Coming in August
As Mumbai's fate hangs in the balance, Sartaj Singh chases a connection to Ganesh Gaitonde's third father, an enigmatic guru with a catastrophic plan.
Better Than Us   16/8/2019
Set in Moscow in a not-so-distant future where human beings coexist with robots, a man finds himself entangled in the first murder committed by an experimental humanoid.
45 rpm   16/8/2019
Forming an uneasy love triangle, three characters with ties to the music industry set out to create a new record label and live a rock-and-roll lifestyle in the conservative political environment of 1960s Spain.
QB1: Beyond the Lights: Season 3   16/8/2019
Three football phenoms set for stardom -- Spencer Rattler, Lance LeGendre and Nik Scalzo -- navigate the ultimate season of their high school careers.
Hyperdrive   21/8/2019
Elite street racers from around the world test their limits in supercharged custom cars on the biggest, baddest automotive obstacle course ever built.
Frontera verde   16/8/2019
When a young Bogotá-based detective gets drawn into the jungle to investigate four femicides, she uncovers magic, Nazis and her own true origins.
MINDHUNTER: Season 2   16/8/2019
The Behavioural Science Unit's killer instincts move from theory into action when the FBI joins in a high-profile hunt for a serial child murderer.
Rust Valley Restorers   23/8/2019
Old-school auto enthusiast Mike Hall, his pal Avery and son Connor go the extra mile to restore retro cars -- and hopefully turn a profit.
Workin' Moms: Season 3  29/8/2019
As Kate adjusts to her new normal, Anne redirects her anger, Frankie hits her professional stride and Jenny tries to be a better mom.
Droppin' Cash: Season 2   30/8/2019
This Complex series follows the paper trail of musicians and athletes in Los Angeles as they blow through stacks on the finer things in life.
Styling Hollywood   30/8/2019
Stylist and interior designer Jason Bolden and husband Adair Curtis of JSN Studio make the magic happen on the red carpet and at home for A-listers.
The Dark Crystal: Age of Resistance   30/8/2019
The Dark Crystal: Age of Resistance returns to the world of Thra with an all new adventure. When three Gelfling discover the horrifying secret behind the Skeksis' power, they set out on an epic journey to ignite the fires of rebellion and save their world.
NETFLIX FILM
Otherhood  02/8/2019
Feeling forgotten on Mother's Day, three best friends leave the suburbs and drive to New York City to surprise their adult sons.
Sextuplets   16/8/2019
Father-to-be Alan is shocked to learn that he was born a sextuplet (all played by Marlon Wayans). With his newfound brother Russell riding shotgun, the duo sets out on a hilarious journey to reunite with their remaining long-lost siblings.
The Little Switzerland   16/8/2019
The discovery of the tomb of William Tell's son in a town in the Basque Country spurs the village's cantankerous citizens to lobby for Swiss annexation.
Falling Inn Love   29/8/2019
When city girl Gabriela (Christina Milian) spontaneously enters a contest and wins a rustic New Zealand inn, she teams up with bighearted contractor Jake Taylor (Adam Demos) to fix and flip it.
Kardec   29/8/2019
This biopic from director Wagner de Assis ("Nosso Lar," 2010) tells the story of French influential author Allan Kardec, the founder of Spiritism.
La Grande Classe   30/8/2019
Two best friends return to their hometown for a middle school reunion, hoping to show up their former bullies and reconnect with teenage crushes.