That's some bounty!
Ireland's most-loved "chawklit" seller Noni Considine burst into Dermot and Dave this morning with the disturbing news that her pram had been swiped on Thursday afternoon - and it's making headlines:
🚨 DISASTER 🚨 - Noni's pram full of her new chawwwklit has been STOLEN! 😱

Noni is offering a €1️⃣0️⃣,0️⃣0️⃣0️⃣ reward! 💶💶

Tune in to #DermotAndDave at 9am on Monday morning to get full details of the €10,000 reward. pic.twitter.com/EFQUa64maq

— Today FM (@TodayFM) June 7, 2019
This has come as a massive shock across the nation as the 84-year-old was only after announcing the launch of her new Limited Edition Chawwwklit Bars the same day.
Dermot and Dave setup an incident room to help with any inquiries and leads Today FM listener's might have.
The phone lines were hopping and WhatsApp exploded with people telling us about the various sightings and theories on who the culprit(s) may be.
But Noni didn't come down in the last shower and is pretty sure she knows who the wrongdoer is - her nemesis Marguerite Shannon;
Let me tell you about Marguerite Shannon - she's a tramp from Corbally. She's been trying to get onto my patch, outside Thomond Park, selling chawklit out of a pram and it isn't working for her. Now I think she's gone after my chawklit
Maybe you know Marguerite? If you have any ideas about what's going on, then get in touch because there's a €10,000 reward for the person who finds the pram (and it's Limited Edition contents) first.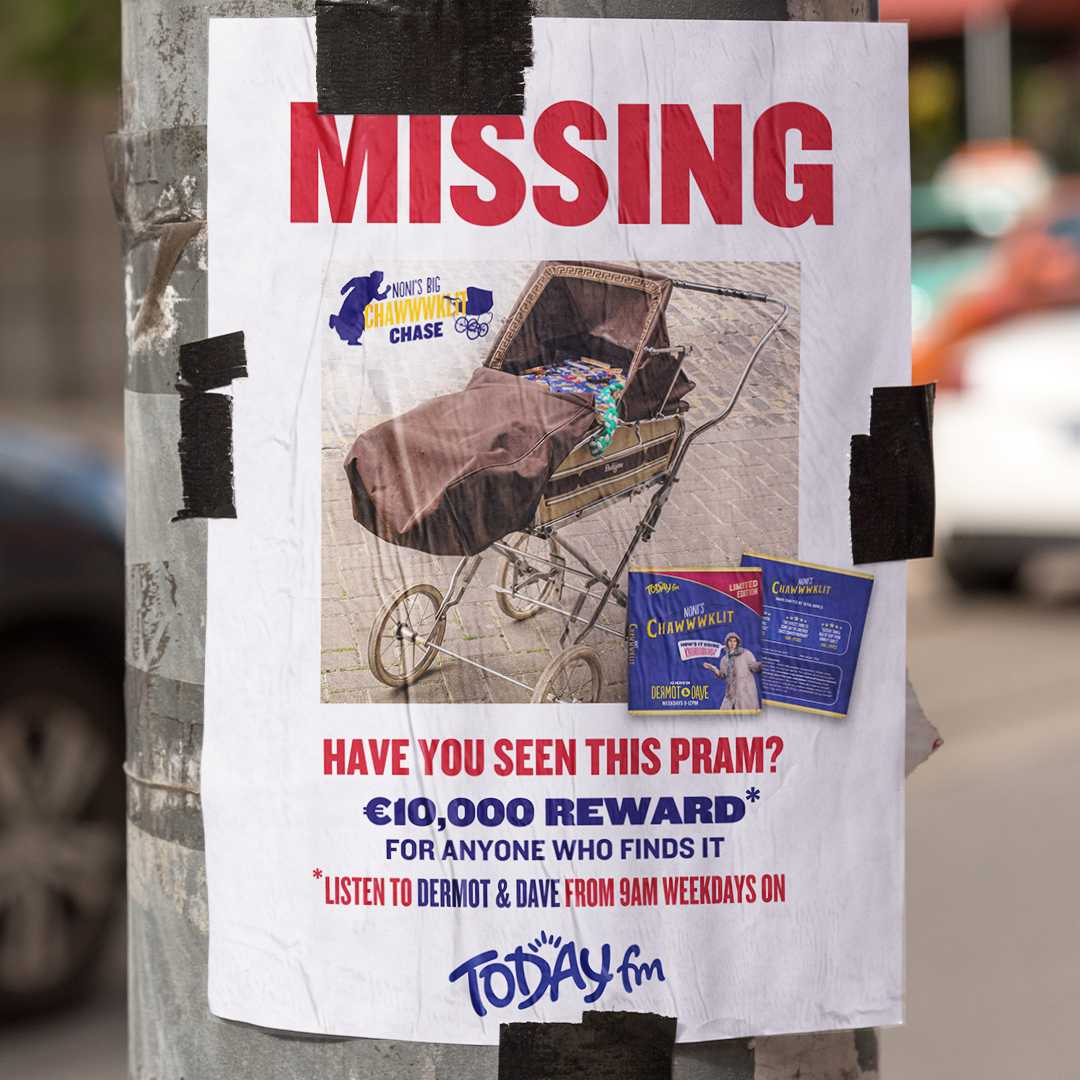 Check out the antics in full by pressing the play button on screen.
And make sure you tune in to Dermot & Dave from 9am Monday morning to get details of that amazing €10,000 reward.