Go, Go, Glitterball!
When we heard that our friend and former colleague Máiread Ronan was taking part in this year's Dancing With The Stars, we always knew she was headed for the final!
After seeing her in action on the dancefloor at all those Today FM Christmas parties, there was never any doubt – that girl has got moves!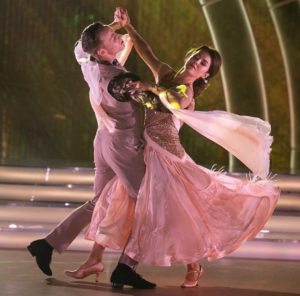 Can she go all the way?
From the get-go, Máiread meant business. She got off to flying start and herself and her partner, Kilkenny man John Nolan, have topped the leaderboard week after week, with their brilliant Charleston, their stunning waltz, beautiful contemporary ballroom piece and so many more.
Máiread has improved week after week, finally getting an impeccable thirty points last week for her Vienesse Waltz, which secured her a place in this weekend's final with Cliona and Johnny.
Sneaky trips to McDonalds?
Iano and Shauna caught up with the woman of the moment on this morning's show to see how preparations were going and to quiz her on her late night trips to McDonalds….
Remember, once those lines open on Sunday night, TEXT MAIREAD TO 53125!