Chef Shane Smith has some simple bakes that will brighten up your month.
Who better to bake our way into January 2022 than one of our favourite guests.
Three easy to follow recipes for you to complete alongside your kids or as a simple solo treat.
Alison Curtis caught up with Shane for some baking banter ... what better subject is there!
WARNING: Mouth watering may occur. 
See Below for recipes. For more follow @chefshanesmith go to chefshanesmith.ie
Banoffee Pie Pancakes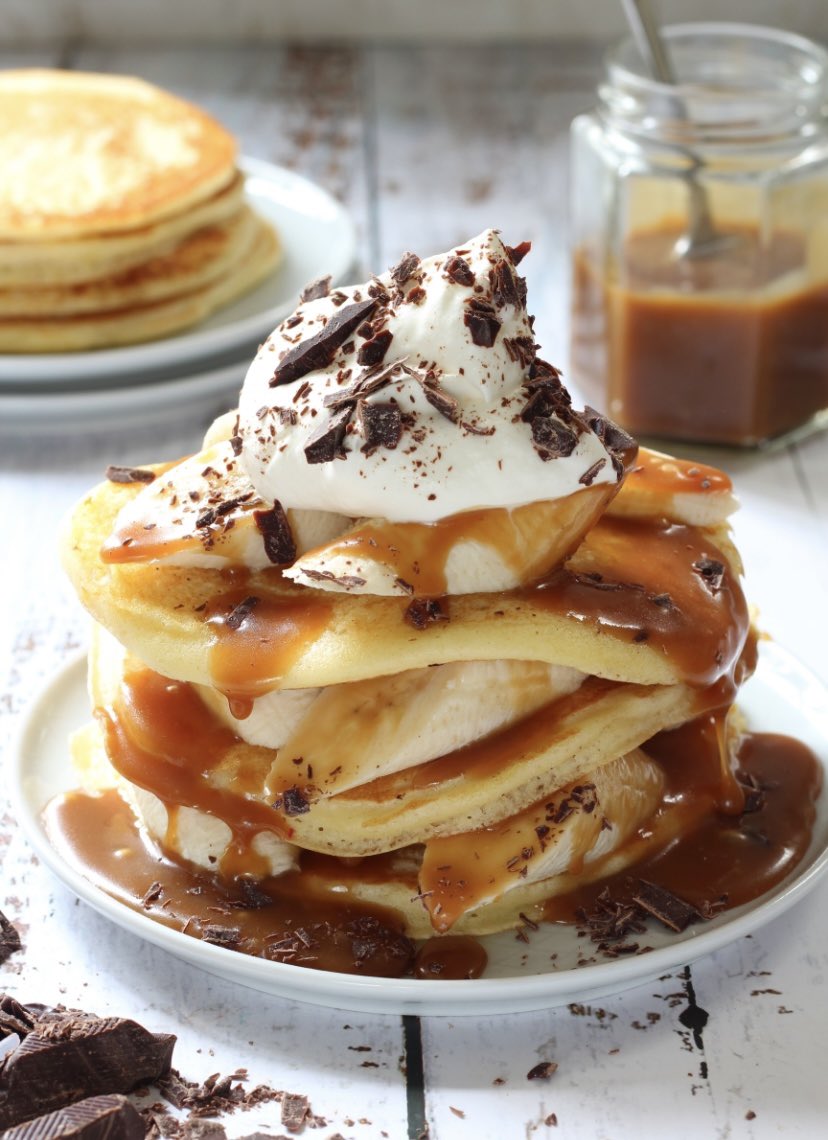 Makes 6-8 pancakes
Pancake batter
150ml milk
1 large egg
1/2 tbsp caster sugar
pinch salt
2 tbsp melted butter
120g self raising flour
Toffee sauce
110g butter
100g brown sugar
120ml single cream
dash vanilla
Garnish
4 bananas
200ml single cream
Grated chocolate
Method
For the toffee sauce, in a saucepan add the butter and brown sugar and cook over a medium-low heat until combined and it turns a golden brown colour.
To this, carefully add the cream and vanilla and reduce the heat and cook for 5 minutes until all the sugar is dissolved and the sauce has thickened slightly. Set aside to cool to room temperature.
For the pancakes, add all the ingredients into a bowl and whisk until smooth.
Add a splash of oil to a frying pan set over a medium heat and spoon on the pancake mix.
Cook for 30 seconds on each side or until golden brown.
To assemble, layer up the pancakes with sliced banana and toffee sauce.
Top with semi whipped cream and grated chocolate.
Enjoy
---
Carrot Cake Cookie Sandwiches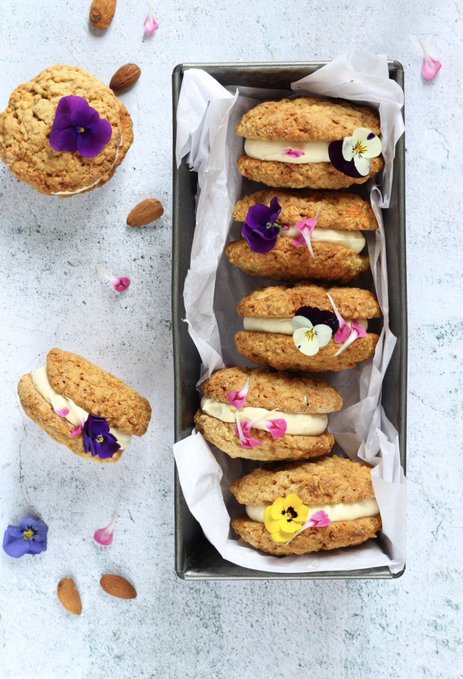 Makes 20 cookies (10 sandwiches)
Ingredients
115g butter
125g brown sugar
2 tbsp maple syrup
1 tsp vanilla essence
140g plain flour, sieved
130g porridge oats
3/4 tsp bread soda
1/2 tsp ground cinnamon
1/2 tsp ground mixed spice
60ml milk
100g grated carrot
50g pecans, chopped
Cream cheese buttercream
200g butter
200g icing sugar
50g cream cheese
dash vanilla
Method
For the cookies, preheat your oven to 180C/160C fan and line two trays with parchment paper.
In a mixing bowl, add the butter, brown sugar, maple syrup and vanilla.
Mix until soft & creamy.
To this add the flour, oats, bread soda, spices. Mix.
Next, add the grated carrot, milk & pecans and mix until combined.
Chill the cookie dough for 30 minutes.
Once rested, divide into 20 scoops and pop ten on each tray.
Pop into the preheated oven for 12-14 minutes or until lightly golden brown.
Remove and allow to cool.
For the buttercream, whisk the butter, sugar and vanilla together until soft and light in texture.
To this add the cream cheese and fold through - don't overmix.
Pop the buttercream into a piping bag and pipe onto the base of ten of the cookies.
Sandwich with the remaining half and simply enjoy!
---
Apple Crumble Loaf

Serves 6
Cake batter
220g butter
140g caster sugar
dash vanilla
4 medium eggs
pinch salt
1 tsp baking powder
200g plain flour
Apples
2 apples, peeled & chopped
30g brown sugar
1 tsp cinnamon
Crumble
40g plain flour
30g porridge oats
30g cold and cubed butter
35g brown sugar
Method
• Preheat your oven to 180C/160C fan.
• Grease and dust a 2lb loaf tin, set aside.
• Toss the apples in the cinnamon and sugar and leave to sit out until needed.
• For the crumble mix, in a bowl mix all the ingredients together with your fingertips until you reach a nice sandy texture. Chill until needed.
• For the cake, cream the butter and sugar until soft and pale.
• Add the eggs gradually, if the mix begins to split dont panic, it will come together when the dry ingredients are added.
• Add the vanilla. Mix.
• To this mixture add the sieved flour, salt and baking powder. Mix.
• Fold in the diced apples and spoon this bater into the prepared tin.
• Top with the chilled crumble mix and place in the preheated oven and bake for 60 minutes.
• Allow to cool slightly in the tin before carefully removing it.