Pastry chef Shane Smith joined Alison this weekend to share some Easter treats that all the family can enjoy.
Baking is a great way to get the family together and spend some quality time over the Easter holidays.
You can listen back to their full chat by pressing the play button in the image at the top of the page and check out the recipes below. 
Bunny Butt Cupcakes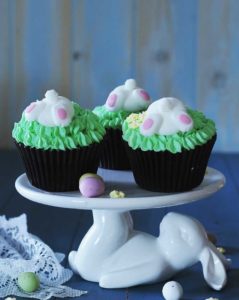 (Makes 10)
Cupcakes
125g butter (room temp)
125g caster sugar
2 medium eggs
125g pain flour
Vanilla extract
1/2 teaspoon baking powder
Buttercream
250g butter
250g icing sugar
dash vanilla extract
green food colouring
Bunny buts
Fondant icing
Red colouring
Method
For the cupcakes, cream the butter and sugar together until pale, add one egg and mix, add the other egg and vanilla and mix.
Sieve the flour and baking powder and add to the above mix.
Fold until all the flour is combined and divide between cupcake cases.
Place in a preheated oven set at 165ºC and bake for 25-30 minutes or until golden brown and cooked.
Remove and cool.
For the buttercream, simply beat the butter, icing sugar, vanilla and a small drop of green colouring until smooth. Place in a piping bag fitted with a small star shaped nozzle and pipe on top of the cooled cupcake. If you don't have a bag or nozzle, just spread on with a knife.
For the bunny butts, roll four balls of white fondant, one large (butt), two medium and roll like small sausages and flatten (feet) and one small (tail). Colour a small piece of the icing with red colouring to create a pink colour to put on the feet to resemble the sole of the foot. To assemble stick the pink soles on the base of the feet using water or egg white and then in turn adhere the feet to the large circle. Finally stick the tail above the feet and allow it to set a room temperature for as long as possible. Once set, place these on top of the buttercream and serve!
Carrot cake cookie sandwich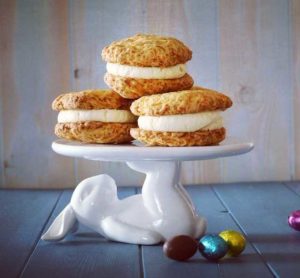 (Makes 16 cookies / 8 sandwiches)
Ingredients
140g butter
140g brown sugar
1 egg
200g carrot (grated)
zest of one orange
3 tablespoons chopped walnuts
350g plain flour
1 teaspoon mixed spice
1/2 teaspoon baking powder
Filling
200g butter
200g icing sugar
1 teaspoon vanilla essence
100g cream cheese
Method
In a mixing bowl, cream the butter and sugar together.
Add the egg and orange zest and mix to combine.
To this add the grated carrot and nuts, mix.
Finally add the sieved flour, baking powder and mixed spice and fold until combined.
Divide the batter into 16 even balls and place on two lined trays.
Press the cookies down with the palm of your hand to flatten and bake in a preheated oven at 180C for 12-15 minutes or until lightly golden brown.
Remove from the oven and allow to firm up on the tray for 10 minutes and then remove onto a wire rack to cool completely.
While cooling, the filling is very simple. In a mixing bowl beat the room temperature butter and icing sugar together until pale and soft, add the vanilla and finally the cream cheese. Do not over mix at this point.
To assemble, very simply spoon or pipe some of the cream cheese filling into the centre of one of the cookies and sandwich together by placing another one on top.
Mini Easter egg cakes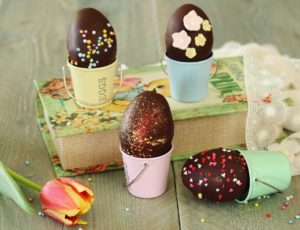 (Makes 10)
Easter egg cakes
350g sponge cake
150g cream cheese
1/2 teaspoon vanilla essence
Dark / milk or white chocolate
Sprinkles to decorate
Method
In a mixing bowl, break up the sponge to a fine crumb.
Add the cream cheese and vanilla and mix to form a soft ball
Divide the mixture into 10 equal sized balls and roll into an oblong shape and place on a tray and chill for 30 minutes.
While these are chilling, melt your chocolate of choice and set aside.
Using a kitchen fork, dip the chilled cake into the chocolate tapping to remove the excess and place on a lined tray and decorate with your sprinkles.