Eoin Colfer is cool AF. That's Artemis Fowl btw ;-)
One of Ireland's favourite authors is as fowl mouthed in person as he is in his books! Of course it's usually faerie swears!
Or when he's giving out about some suspicious smells in a lift!
"When friends part, we allow our winds to mingle. The blend of particles unites us forever. It is very powerful troll magic."

Last known to have taken place between Whistleblower and Beckett Fowl on Dalkey Island.

And more recently, yours truly and that man in the elevator 😫

— Eoin Colfer (@EoinColfer) November 13, 2020
He is very cool and very funny and he spoke to Weekend Breakfast to tell us all about his latest book. It is the second installment in his Artemis Fowl spin-ff series. The Fowl Twins: Deny All Charges is a raucous, adventure dribbling faerie fun fest that follows the twins Beckett and Myles, the younger siblings of Artemis.
Eoin and Alison chatted about all things Artemis, his reaction to the movie (it's been in development for 20 years), his fascination with "cartwheels and farting" and of course his ONLY regret.
Put the feet up, put the kettle on, go for a walk whatever you do PRESS PLAY AND ENJOY!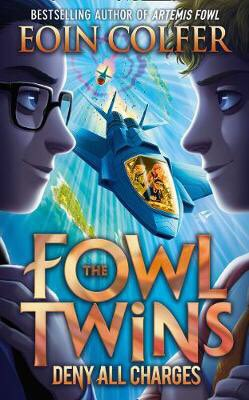 Eoin is also taking part in Wonderfest Ireland on the 20-21-22 November
Tickets available at the pavilliontheatre.ie or wonderfest.ie