There's a Glass and a Half in Everyone!
On Weekend Breakfast we have been on the hunt for Ireland's Soundest Town with thanks to our generous sponsors Cadbury.
Since April we've been travelling the country, visiting towns with amazing stories and even better people.
Along the way we awarded a Soundtown of each month, however, last week we finally chose our overall winner.
The Soundest town in Ireland has been named as Fartown, Co. Galway.
On Saturday 16th November we visited Fartown to crown them as the SOUNDEST TOWN!
We did the show LIVE from Zanni's house, awarding them the plaque and €10,000 towards a community project.
To listen back to how it all went simply hit the listen button above.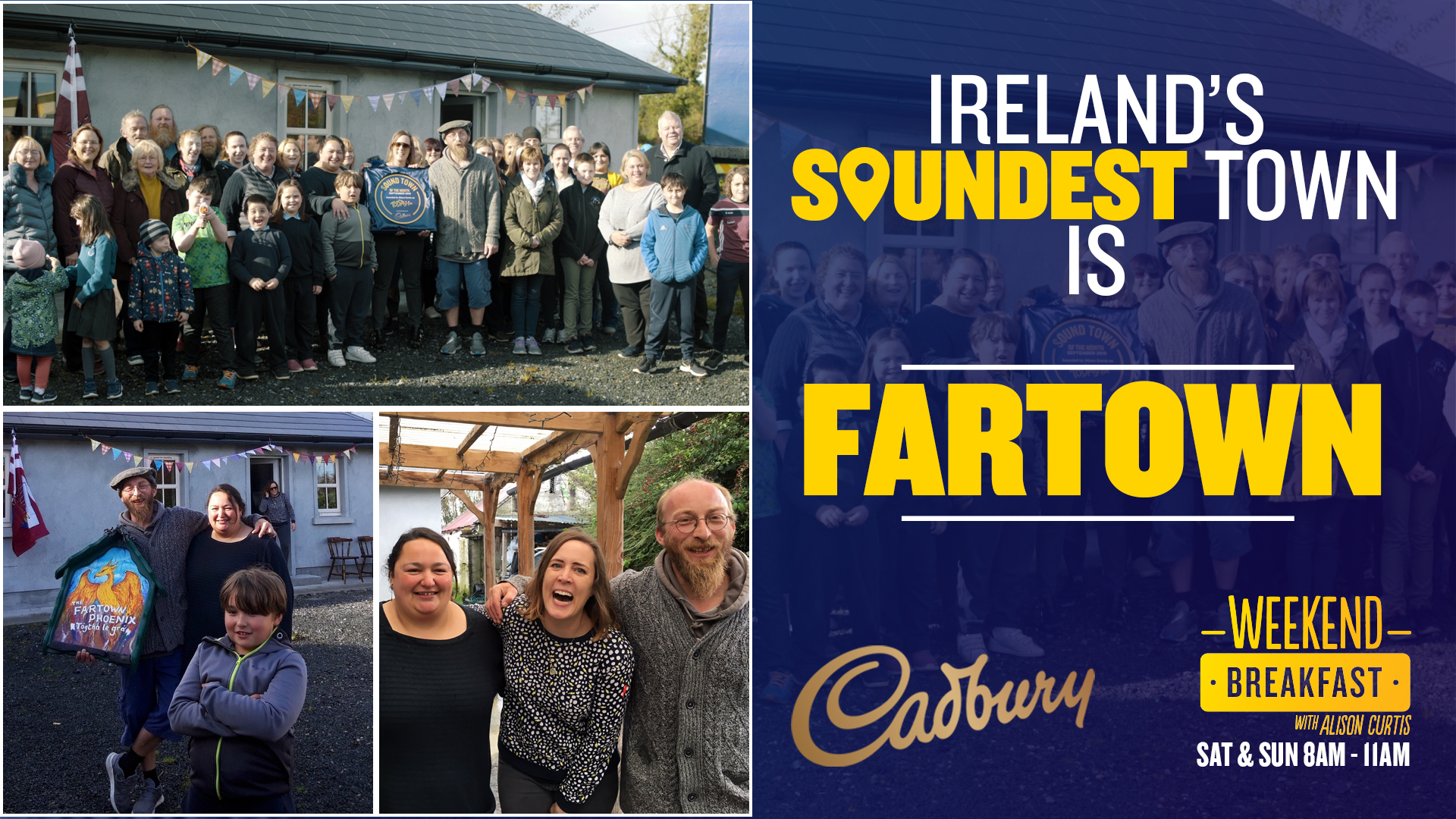 The Amazing Story Of Fartown
Melanie and Jeremy Zanni are overwhelmed by the generosity of local tradesmen who worked around the clock to construct the house for them in a matter of weeks.
The Zanni family settled in Fartown over ten years ago when they fell in love with a 300-year-old thatched cottage and set up a bakery.
But their home went up in flames and was destroyed following a freak chimney fire.
The local community wasted no time in constructing a new home, which the family have now moved into.
What our judges had to say:
"It was really difficult to choose one overall Cadbury Soundtown Winner. Each of the monthly winners showcased the best of their town and the beauty of the place they call 'home'. You could sense huge pride in each one of them and it's great to see that community spirit is alive and well in Ireland today.
But there can be only one winner and the judges felt that the winning Soundtown demonstrated the true meaning of 'community spirit': rallying around to support your neighbours in times of hardship. As one of the locals put it "it just shows what can be done when people are working together, not pulling against each other". The people of this town not only rebuilt a house, they rebuilt a home.
Our Cadbury Soundtown winner, 2019 is Fartown, Co Galway."
Here's the moment we revealed the winner last week:
Weekend Breakfast with Alison Curtis, Saturdays and Sundays from 8am