Meet Molly, the inspiration behind Molly's Cards.  She's a 30 year old entrepreneur who loves her Cairn Terrior.
"Wake Up Every Morning And Tell Yourself I Can Do This!" is just one of Molly's mantras.
Today is World Down Syndrome Day and to help celebrate it we have Catriona Ryan who helps run a small business called 'Cards By Molly Madra' with her sister Molly (who is the real boss!)
They are a sister sister and dog card business who embarked on a dog card adventure. The cards are produced and designed in Ireland supporting more Irish businesses and Molly and Toto are the legends who fold, pack and post the cards to customers.
Based in Tipperary & Limerick
Molly is the leading lady, this business has been so important for her self-esteem and sense of purpose , she loves seeing Instagram messages and often receives cards from customers thanking her for the lovely cards . Molly loves making Instagram videos and doing giveaways and enjoys posting adventures of herself and Toto.
Check out their website cardsbymollymadra21.ie
Follow Molly, Toto and Catriona on Instagram: @mollymadra21
Alison Curtis spoke to Catriona as part of our Small Business Shoutouts feature and we had a very special message from Molly too:
"Remember Anything Is Pawsible with a Dog By Your Side. "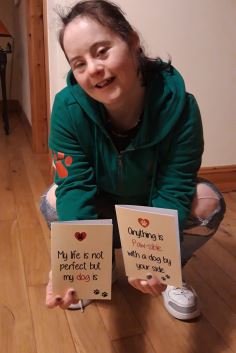 Molly Mantras:
"I Am A Business Woman.
I love making my dog cards and doing deliveries.
Remember Anything Is Pawsible with a Dog By Your Side. 
Wake up Every Morning And Tell Yourself I Can Do This."
If you have a small Irish Business and want a shoutout on the show please email lenny@todayfm.com with the details