We really are a sound bunch!
Even though it has been a tough year for so many, in times of darkness many communities around Ireland have focused on bringing light to their towns and cities.
New research from Cadbury Ireland shows a whopping 98% of us have helped others in the last year.
That includes people calling to check on a family member or friend or an elderly neighbour, to doing the food shopping for someone cocooning.
Friendly
This past year has felt so isolating at times, but we've continued to be a friendly bunch on the streets of Ireland with 79% of us often say hello to strangers while passing.
88% would happily put a skill to good use to benefit someone in need with 78% of us supporting local businesses where possible since the beginning of Covid-19.
All of this leads to 81% of us feeling that Ireland has a good sense of community.
What better way to celebrate our community heroes than with the launch of Cadbury Dairymilk Soundtown 2021 on Weekend Breakfast with Alison Curtis.
Your community spirit has never been stronger, and now we want to hear all about your Community Champions, the people who make your town a sound place to live.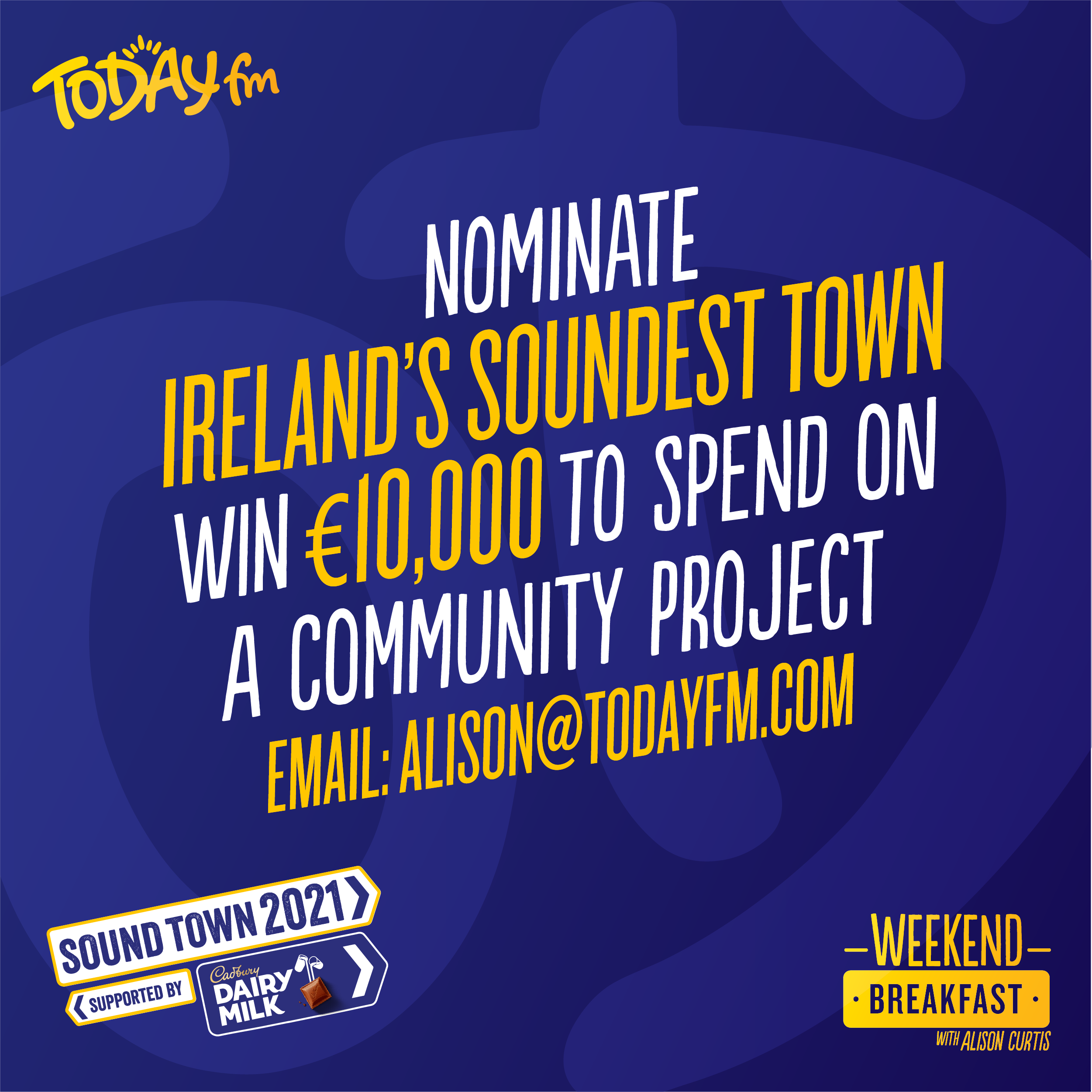 If the below SOUND qualities describe where you live then get in touch.
For full T&Cs see here and tune in Saturdays from 8am and Sundays from 9am to Weekend Breakfast with Alison Curtis for more.
S O U N D
Surprising - It's the small, surprising gestures that sometimes have the most heart.
Optimism - always seeing the best and looking to make the best of the world for others.
Unassuming - An unassuming person is amazing but does not go around bragging about it.
Neighbourly - It's leaving a car space for your neighbour, or  cutting their patch of grass when you do your own.
Dependable - You know you can trust your community and they can trust you.
For April we were delighted to announced Crosshaven, Co Cork as our first qualifying monthly town.
Crosshaven (Cork) is our April #CadburySoundtown winner 🎉🇮🇪🙌

Nom'd by Eileen O'Brien, Crosshaven's incredible volunteer spirit stood out straight away!

Nominate your town: email Alison@TodayFM.com to win €10,000 for your town! @AlisonTodayFM @CadburyIreland pic.twitter.com/11PP8nxdDB

— Today FM (@TodayFM) May 27, 2021
For May our monthly winning town was the amazing Murrintown!
Murrintown has the most incredible 'It Takes A Village' approach to making their community a better place 👫👬👭

Especially over the last 18 months when times have been so tough 💛

Huge congrats to Murrintown our #CadburySoundtown winner for May! @AlisonTodayFM @CadburyIreland pic.twitter.com/q819BIXkvq

— Today FM 💛 (@TodayFM) June 13, 2021
Our June monthly winning town was New Inn, Co Tipperary.
 

View this post on Instagram

 
Our July monthly winning town was the incredible Abbeyfeale in Limerick.
Shout out to
Stay tuned to Weekend Breakfast on Today FM for more Cadbury Soundtown winning moments!