Donegal's COVID-19 rate has gone above 200 for the first time, while there have also been surges in the rates in Roscommon and Monaghan.
The latest figures from the Health Protection Surveillance Centre show that there were 204.2 confirmed cases of the virus for every 100,000 people in Donegal in the past two weeks.
Monaghan has seen a 260% rise in the past week with the 14-day figure now sitting at 135.2.
Meanwhile, Roscommon has jumped from 83.7 yesterday to 99.2 today.
Dublin still has the second-highest rate in the country with a 14-day figure of 156. The rate in the capital has been slowly rising over the past seven days – rising from 140.3 this day last week.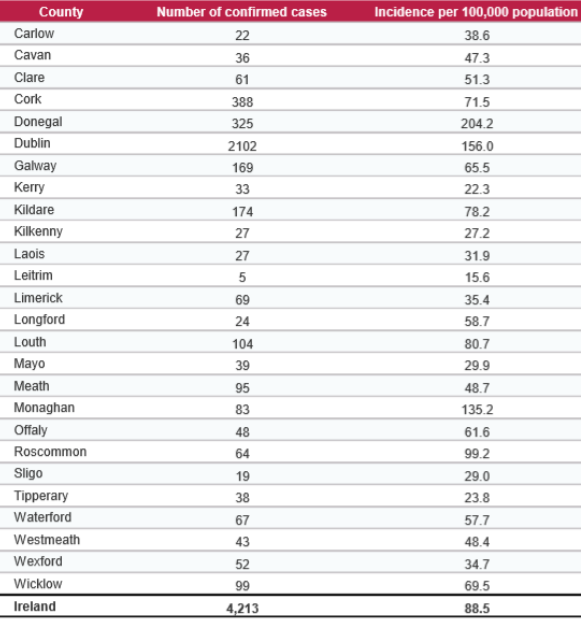 Speaking at the COVID-19 committee in the Dáil this morning, the acting Chief Medical Officer Dr Ronan Glynn said there is still not enough evidence to suggest the Level Three restrictions in Dublin could be reduced.
"I fully appreciate the need for certainty but what I would say is that the measures that were put in place last Friday week for Dublin would only be beginning to take effect yesterday, today and tomorrow.
"We do need to see a significant improvement over the coming days in Dublin. We have not seen it yet."
ℹ️ Latest HPSC report shows worrying rises in Monaghan, Donegal and Roscommon - slight fall in Dublin.

📈 Days without fall in incidence rate

Cork - 19
Donegal - 17
Galway - 10
National - 20

📉 Days without rise in incidence rate

Carlow - 4
Waterford - 4 pic.twitter.com/O02aDpurC6

— Ben Finnegan (@_BenFinnegan) September 30, 2020
It has now been 20 days since the national rate has fallen. It has been 19 days since the rate has dropped in Cork and 17 since it dropped in Donegal.
Meanwhile Leitrim, which was up at 81.1 less than two weeks ago, now has the lowest rate in the country at 15.6.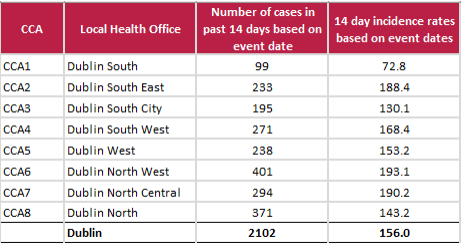 In the capital Dublin North West now has the highest virus rate at 193.1, followed closely by Dublin North Central and Dublin South East.
Dublin South still has the lowest levels in the county.
Dublin North-West  includes Cabra, Phibsborough, Finglas, Part Glasnevin, Castleknock, Blanchardstown, Mulhuddert and Smithfield.
Dublin North-Central includes Ballymun, Drumcondra, Whitehall, North inner City, Fairview, Clontarf and Donneycarney
Dublin South-East includes Sandymount, Ballsbridge, Ranelagh, Donnybrook, Milltown, Dundrum, Ballinteer, Sandyford, and Kilternan.
Minister Stephen Donnelly defending the turnaround times for testing in Ireland says it's good when compared to other countries. Says our capacity is also good and that some other countries "would bite your hand off" for that capacity

— Seán Defoe (@SeanDefoe) September 30, 2020
Meanwhile the Health Minister Stephen Donnelly has defended Ireland COVID-19 testing system, insisting we have faster turnaround times than most European countries.
He said system capacity is good and some other countries "would bite your hand off" for a similar system.
He said the current county by county system of restriction levels is working and suggested officials would not be considering even more localised plans.
Additional reporting Ben Finnegan and Seán Defoe
Main image shows members of An Garda Síochána performing random vehicle checks in the border village of Muff, County Donegal, 30-09-2020. Image:  Liam McBurney/PA Wire/PA Images