A hen in Co. Offaly - who holds a Guinness World Record - has sadly passed away.
Marmalade, who was world famous for her virility, produced over 180 chickens in her life.
She was also known to enjoy a pint of the black stuff too.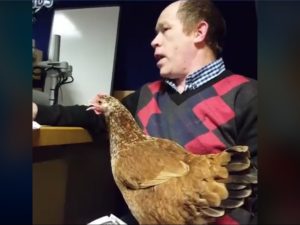 The Banagher pet led the towns St. Patrick's Day parade last March.
Marmalade passed away at the age of four and a half.
TRIBUTE
Owner John Dolan says he's planning on getting her stuffed, and displayed proudly on his kitchen wall:
We kind of nearly killed her with kindness, she was that well looked after. She was everything to us.