Honesty is the best policy
Two weeks ago, Dermot and Dave were discussing a viral story where a girl, who had been ghosted by a guy, received some 'tips'.
Three months on from their date, this charmer got in touch to say that she should consider losing some weight, putting on some fake tan and getting some hair extensions.
It led to a debate about whether people should give honest feedback after a date.
For example, should you tell someone if they smell of feet?
Eve got in touch with the below Tweet: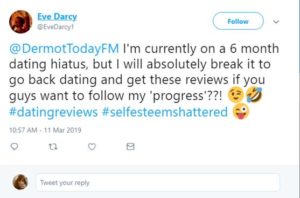 The following day, Eve joined us on the show where she spoke about how she's been following a pattern where she'd 'come into heat' and go mad dating. But, it usually ended up fizzling out.
The Sligo gal was using Tinder/Bumble etc. but isn't afraid to go up to a lad in a bar and start a conversation either.
She got sick of the pen pal thing (where people message back and forth for months without ever meeting up) and the lack of basic manners.
When Eve goes on dates, she's a big fan of being open and honest if it doesn't work, then so be it.
Ms Darcy joins Dermot and Dave live in studio to tell us the developments in her 'honest dating' approach, which includes a Google Forms Document she's going to send to her upcoming dates.
A taste of Eve's feedback form:
How would you rate today's date?
Terrible! (I'll never go on a date again)
Life changing (We'll live happily ever after)
Did I live up to your expectations based on my online profile?
Eve will ask for dates to rate their sexual chemistry ranging from Inert (nothing going on below the waist) to Explosive (Let's rip each other's clothes off) and will also ask for feedback on her Appearance, Sense of Humour, Flirting Style and Banter Standard.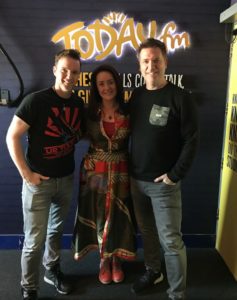 Check out the fun in full by pressing the play button on screen.