100k In 30 Days
This June you can raise much needed funds for Breast Cancer Ireland by doing 100k in 30 days.
Join the Pink Army by walking, running or wheeling, either on your own or with friends, family or colleagues.
Last year saw €1.7 million raised for Breast Cancer Ireland and your support this year means they can continue to do their important work and research.
 

View this post on Instagram

 
100k In 30 Days, this year sponsored by Sherry Fitzgerald, was founded by Co. Louth couple Niall Carroll and Cara McAdam.
The event launched in 2020 after Cara was diagnosed with breast cancer.
Over the last two years the event has seen 38,000 people in 36 countries take part to raise €3million for Breast Cancer Ireland.
Niall Carroll, Founder of 100K in 30 Days, said:
"I'm very proud of the success the pink army has achieved to date and we'd be delighted to see new faces this year. I hope communities all across Ireland get behind it. Cancer isn't defeated alone. It takes a village. It's a challenge that can be done in your own time anywhere in the world and you can even get the dog involved!"
 

View this post on Instagram

 
Funds raised through the event goes towards:
Equipment for a new state-of-the-art Clinical Trial Centre due to open at the new Breast Centre on the Beaumont Hospital Campus in June.
The Shamrock Trial – a new clinical trial into Her2+ breast cancer that is being created to examine a fourth generation drug and its effectiveness as part of the treatment plan, de-escalating the need for chemotherapy in the process
Research Nurses - supporting specialist breast research nurses in the eight designated cancer centres.
Triple-Negative breast cancer research - led by Dr Paul Mullan, from the Patrick G Johnston Centre for Cancer Research at Queens University Belfast. This research, which commenced in October 2018, is now showing very promising results in the fight against the growth and spread of the most aggressive Triple Negative Breast Cancers (TNBC's).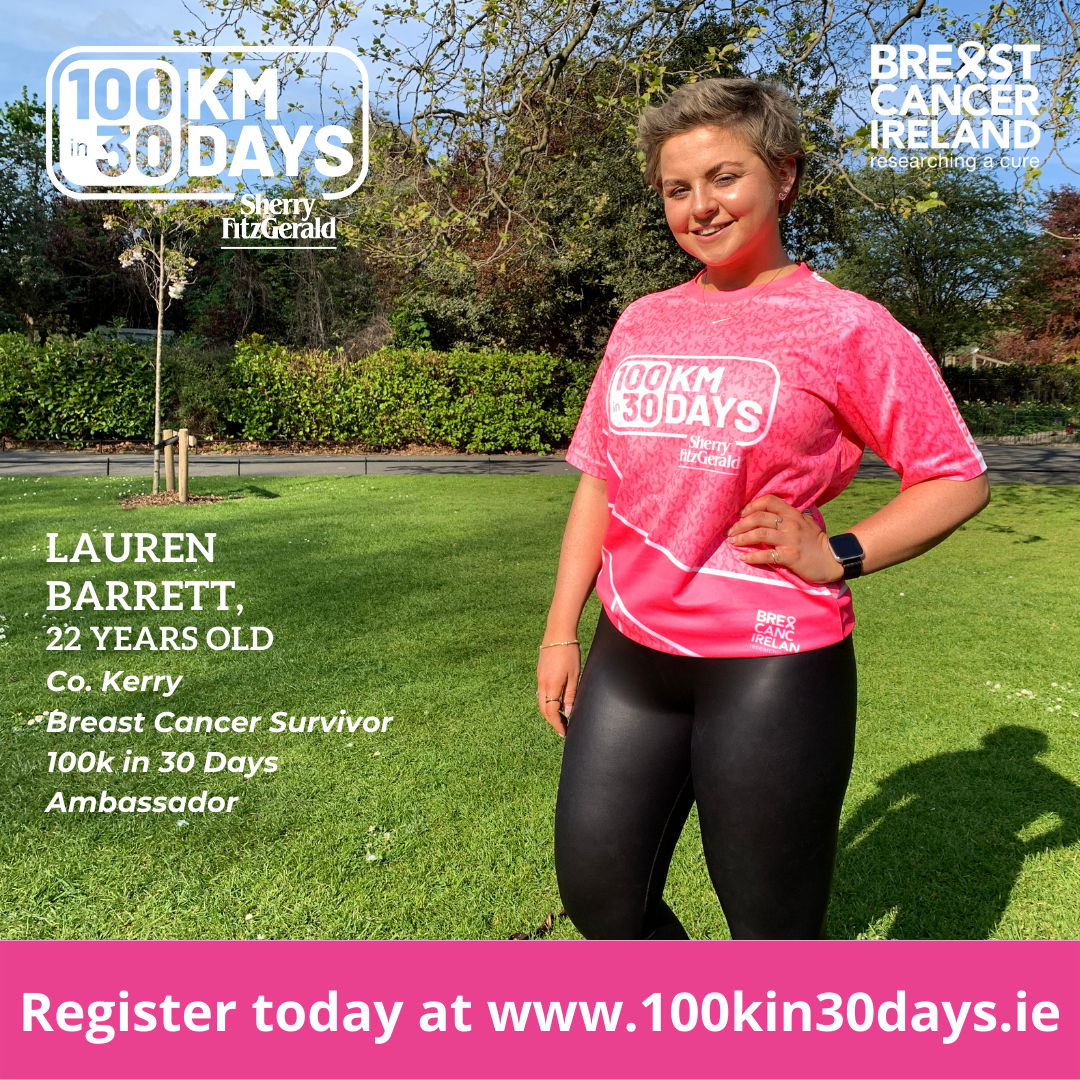 They also go towards helping people like Lauren Barrett, who was diagnosed with breast cancer when she was just 21 years old.
Lauren's Story
"At the end of April, last year, I found a lump on my left breast in the shower and booked into the doctors straight away. My mom had ovarian cancer 5 years previous and is a BRCA1 mutation carrier so I knew it should be checked ASAP. I sat my college exams, and then, after some delays, I was diagnosed on June 4th 2021 with Stage 3 Grade 3 Triple Negative Invasive Ductal Carcinoma.
To be told I had such an aggressive form of breast cancer at only 21 years old was a huge shock. I was then told I too was a BRCA1 mutation carrier.
Due to my age, I underwent a round of IVF before starting 20 weeks of ACT regimen chemotherapy. I had surgeries in December and January, and then completed 15 sessions of deep inspiration breath hold radiation in March of this year. Undergoing cancer treatment during the Covid pandemic was also quite difficult as I was by myself for all my treatments and surgeries.
The last 10 months have been a whirlwind but thankfully, I am now finished with treatment, I'm back playing sport and ready to return to college to complete my final year of Neuroscience in UCC in September.
I am so delighted to be taking part in the 100k in 30 days this year for Breast Cancer Ireland as it is because of the work that they do, that I am now cancer free!"
 

View this post on Instagram

 
As well as supporting a fantastic cause, those who register for 100k in 30 Days and log their distances will be in with a chance to win some great prizes.
They include a €5000 holiday voucher, numerous weekends away, children's prizes, fitbit smart watches and shopping vouchers.
The event is open to everyone and registration is now open at www.100kin30days.ie.