Last January, Dara was taking a shower after his morning run when he discovered a lump on his chest
This October, Breast Cancer Ireland, along with Glanbia and the Joe Duffy Group, want you to help them turn the globe pink.
Join them and people all over Ireland on October 16th and 17th to raise vital funds for breast cancer research.
 

View this post on Instagram

 
Whether you're walking, jogging, toddling, wheeling or running, round up your family and friends to clock up as many kilometres as you can across the weekend.
The goal is for the pink tribe to collectively travel the circumference of the globe, a whole 40,700km!
Registrations for the event are open now on www.greatpinkrun.ie.
 

View this post on Instagram

 
All proceeds from the weekend will help to fund research, good breast health education and nationwide awareness programmes for Breast Cancer Ireland.
Consistent and intensive breast cancer research is vital in advancing a cure to what can be a devastating disease.
This year's funding will be focused on two specific areas;
Continued investment into metastatic disease research, an ever challenging area in need of significant support.
Investment in driving progression and speed of scientific discovery from research settings into clinical trials.
Most importantly, your fundraising will go towards helping real-life people like Dara.
Dara's Story
Last January, Dara was taking a shower after his morning run when he discovered a lump on his chest.
It was quite a prominent lump that he swears must have sprung up overnight, just underneath the skin at the top of his ribcage, the size of his thumbnail.
Thinking it was strange but not overly concerned as it wasn't painful, he quickly forgot about it and went about his daily business. However, the next morning, the lump was still there, and the morning after that, and the morning after that.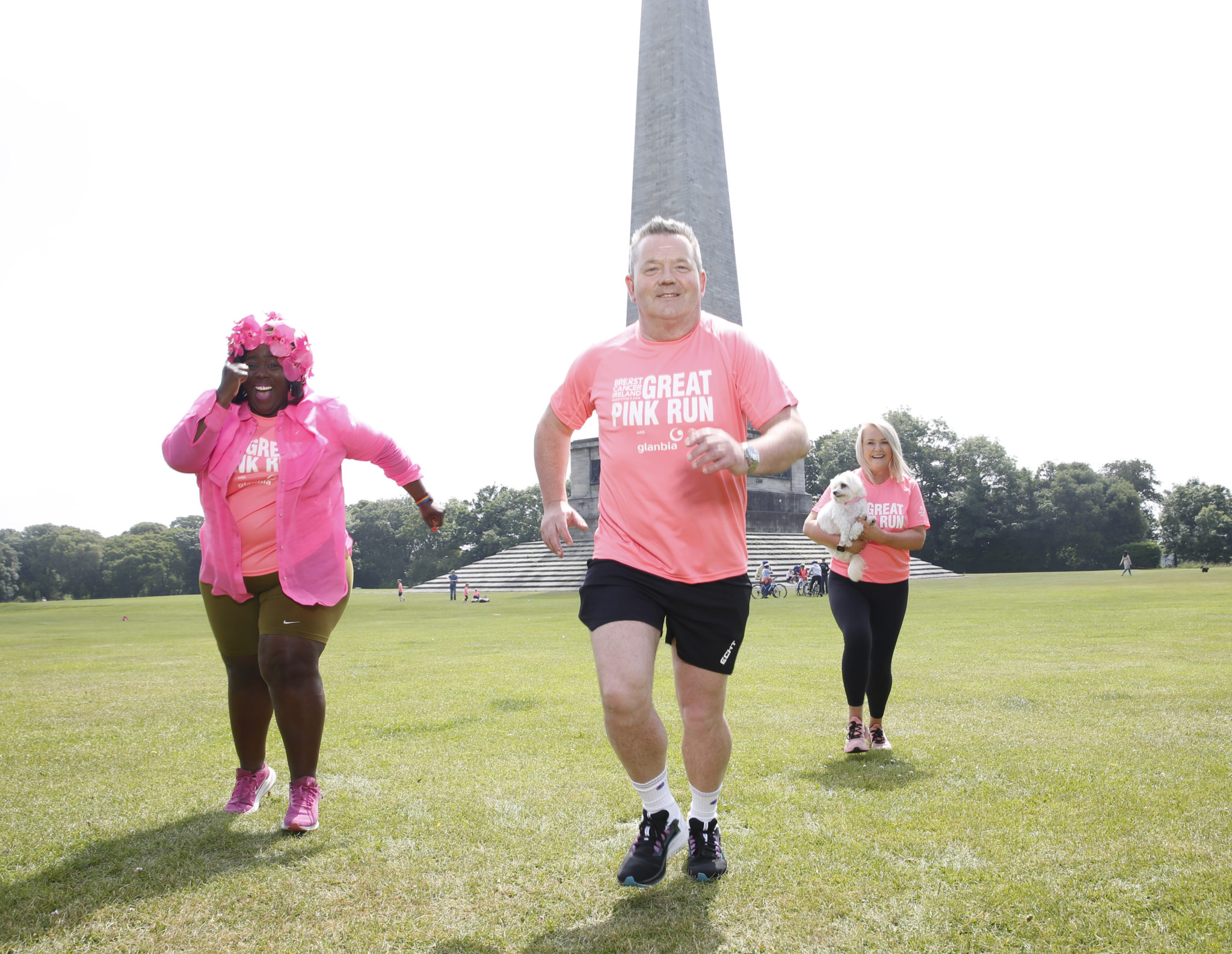 Having  pondered it for a while, Dara made an appointment with his GP after speaking to his friends and family. His GP sent him for a scan, and then on to a consultation at the Breast Care Centre.
Whilst he was in the waiting room, he felt very uncomfortable as he quickly realized he was the only male there.
He clearly remembers the odd looks he was getting from the other women who were also waiting, so much so he nearly felt like leaving the room.
A week later, he went back for his results and experienced the same odd looks whilst sitting in the waiting room.
His results showed that the lump was cancerous, he had breast cancer.
"I honestly started looking around for cameras in the room, men don't get breast cancer. Ok maybe I'll sit down now".
The consultant explained they would need to take it out, to which Dara replied, "Take what out? I don't have a breast, there's nothing there".
The following week, he had a mastectomy.
A few days later he was released from hospital and went back to work fairly quickly.
 

View this post on Instagram

 
However, the doctor also removed some lymph nodes to see if the cancer had spread. Dara said the two weeks waiting for results were terribly difficult.
"I had to get back to work, keep my mind busy, otherwise I would have gone mad,"
He did have a bit of a mad moment a week later when he visited Dr. Google. He will always remember ringing his nurse up to explain,
"I've done something really stupid, I googled secondary breast cancer. Nothing positive can come from googling it, you go down a dark rabbit-hole, I had convinced myself I was dead in 4 years."
His nurse was very comforting on the phone and thankfully a week later, he got his results, and they found no trace of it travelling.
He received the welcoming news that he didn't need further treatment such as chemotherapy/radiation, he would just need weekly drainage.
Luckily for Dara, they discovered his cancer quite early.
 

View this post on Instagram

 
Upon telling people he had breast cancer, people's reactions were one of shock.
The amount of people who think that men can't get breast cancer, including Dara himself before he was diagnosed, is shocking.
Dara remembers asking his consultant what would have happened if he hadn't have come in when he did? What would we be looking at now treatment wise? To which his consultant replied;
"More than likely, the treatment options would have included chemotherapy, radiotherapy or more. The tumour would have grown, possibly becoming invasive and potentially travelling to the lymph nodes, spreading further to the bones, lung etc."
It's so important to get your symptoms checked and not to ignore them.
Dara feels very lucky and says he has nothing to complain about, apart from his somewhat uncomfortable weekly experiences sitting in the waiting room for his drainage appointments.
Dara wishes people realized that men could get breast cancer too. His consultant told him that 1 in 1,000 men get breast cancer.
He realizes how getting checked out was the most important decision he made, things could have been a lot different today otherwise and as a result, wishes to encourage others to do the same.
 

View this post on Instagram

 
How to get involved
Breast Cancer Ireland is asking people all over the globe to come together to support people just like Dara.
Join the pink tribe on October 16th & 17th, no matter your age or fitness level, and help reach that goal of travelling the circumference of the globe.
You can register here and simply use your phone or an app to track your kilometres on the day.
Then upload your distances to the website and help turn the globe pink!
Don't forget to get involved in the fun on social media too and share your photos and videos with #GreatPinkRun2021.
 

View this post on Instagram