We have updated our app and we are so excited for you to see what we have in store (in the app store, amirite??) for you!
With the all new shiny Today FM app you can get access to hours of live shows, podcasts and music to suite every mood and occasion.
The Today FM app is personalised to you, so it will recognise all of the content and things that you love and make sure that you get it first; whether it's the latest Gift Grub sketch with Mario on The Ian Dempsey Breakfast Show to bingeing months of Dave's Bad Jokes from Dermot & Dave - we'll make sure you get the content you want, when you want it.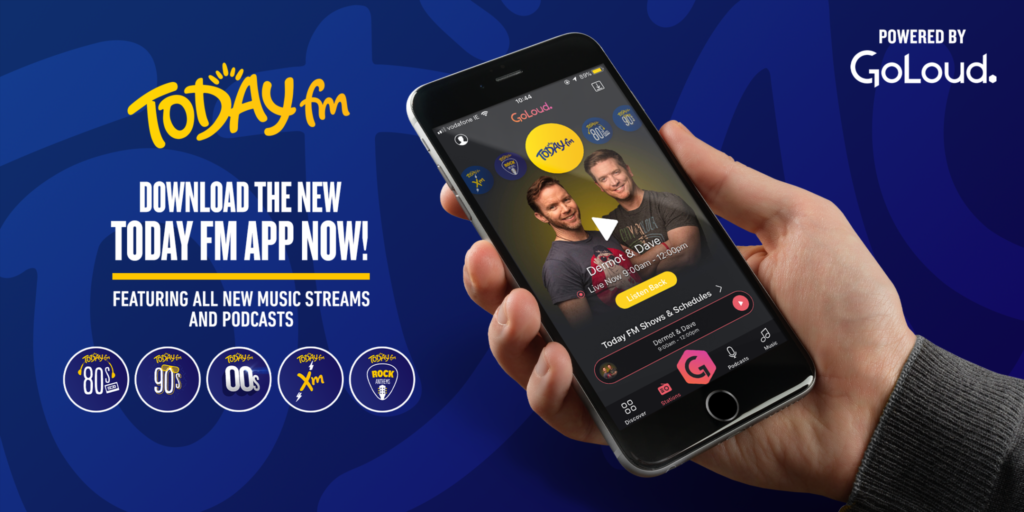 If that wasn't enough, we've expanded our music station family to bring you two BRAND NEW non-stop music stations. You can now listen to all of the hits you miss with Today FM 00s and lend an ear to all of the iconic Rock Hits from the 60s to today with Today FM Rock Anthems now available exclusively within the new app.   
You can get this, along with playlists such as Today FM 'Workout', 'Chill', 'Love Songs' and 'Drive' at any time of the day.
Did we mention the Podcasts? We have hundreds of them for you to subscribe to and download for the journey to and from work every day.
So there ya have it! The all new Today FM app, powered by GoLoud – Radio, Podcasts, and Music to your ears.
How To Download the New Today FM App
GoLoud is available to download via iOS and Android and online at GoLoudNow.com.