Taylor Swift released her first single in quite a while last week and she performed it live for the first time last night at one of the biggest nights in music, the Billboard Music Awards.
She performed her new song "ME!" with Brendon Urie of Panic! At The Disco and she didn't spare any cost when it came to the production.
From a marching band to a rake of dancers, Taylor really knows how to do a comeback performance.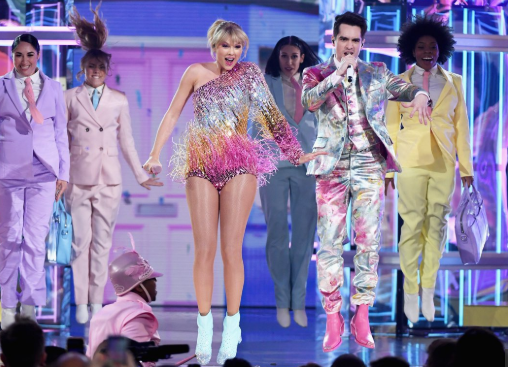 Yet some people had an issue with Taylor's performance, claiming she copied Beyoncé's 2018 Coachella performance.
Beyoncé's performance, which is the subject of a recent Netflix documentary, also featured a marching band and used drums to drive much of the performance.
People took to Twitter to call Taylor out on copying the iconic Beychella:
"One of these things is not like the other" #BBMAs pic.twitter.com/3h6MhC2rJG

— クリス RULES (@ChrisRules_) May 2, 2019
Beyoncé looking at Taylor Swift performance pic.twitter.com/g9PA1VtV7m

— Marley (@irondyketyson) May 2, 2019
twitter's wild because there are ppl on here saying Beyoncé didn't invent marching bands and we all saw when she did

— Desus Nice (@desusnice) May 2, 2019
While other people were quick to defend Taylor's choices:
I can't believe that twitter has gotten to the point where people are comparing Beyoncé and Taylor's drum lines.. so Taylor used drums, lots of people do big whoop.. I love Bey but this really isn't THAT big of a deal

— A (@textmebxck) May 2, 2019
Girl, it's drums... Beyoncé wasn't the first to use drums in a performance and Taylor definitely isn't either. Beyoncé had a whole as band and Taylor had just drums. Y'all need to stop comparing the most general things just because you don't like Taylor. https://t.co/ORySBD7tQf

— tyler⭐️ (@reputytion) May 2, 2019
Either way, we have to admit Taylor knocked it out of the park with this one - you can catch the full performance here: