This is an Earthquake Proof Bed. The bed is the brainchild of Russian inventor Dahir Semenov and it looks absolutely terrifying.
It works by detecting ground shaking tremors that set off an alarm triggering this bed to transform into a strong box that resembles a treasure chest coffin.
Apparently it can withstand 60 odd tons of debris falling on it. We just want to know what if it goes off accidentally? Maybe you're indulging in a relaxing duvet day or maybe yourself and the partner are engaging in some bedroom gymnastics...and THIS happens:
This earthquake-proof bed may look scary but it can save your life 🏚😱 pic.twitter.com/T1XvBJ1ZvP

— Yahoo (@Yahoo) February 4, 2019
The award for best response:
So, what if you're smashing aggressively and the beds shaking? Will it know it's not a quake? Because, if this folds you up mid-stroke......bruh.

— The Hatfish King (@KeithABrockman) February 5, 2019
Here's that quick action again. It'll save your life but by Christ you'll be looking at having brown sheets.
Thankfully in this demonstration they're suggesting the sheets suit your mood as you drop.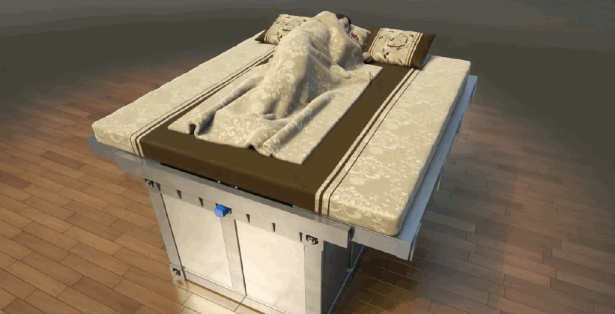 And there's room for supplies. Where's the Tayto Bumper Bag lads? And no cheese toastie machine?