GUMMY MERCURY
13 July 1985 was Live Aid - The Day The Music Changed The World.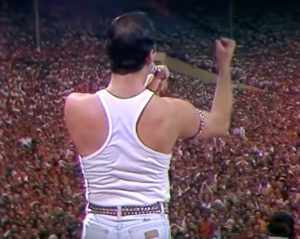 The most iconic moment of all was undoubtedly delivered by Queen, and a masterful, career-defining performance from Freddie Mercury.
Freddie's now infamous "Ay-oh" call and response chant with the 72,000 strong crowd has now been immortalised by hundreds of little Gummy Bears led by a 5lb giant Gummy Bear holding a mic playing in the part of Freddie.
This video has now been viewed over six million times on Facebook
We wonder how long it took to set up the Gummy Bear crowd? However long it was worth it because the results are hilarious!