"We were in Ireland and someone gets the guitar out"
Here it is... 'As It Was' is the brand new documentary from the former Oasis frontman and large anorak enthusiast Liam Gallagher.
According to the makers this new documentary,  "tells the honest and emotional story of how one of the most electrifying rock'n'roll frontmen went from the dizzying heights of his champagne supernova years in Oasis to living on the edge, ostracised and lost in the musical wilderness of booze, notoriety and bitter legal battles."
It features lots of swearing, digs at his older brother, "the geezer split my band up" and "he'd happily see me in the gutter" which are not news but far more revealing are the sections about his family and the cameos by his Mammy Peggy.
It's no surprise Peggy does feature though consideriing her involvement in Gogglebox UK. Liam appeared with Peggy and Lennon his son all drinking tea whereas Noel appeared with Naomi Campbell and Kate Moss. (We're on 'Team Liam' for that alone)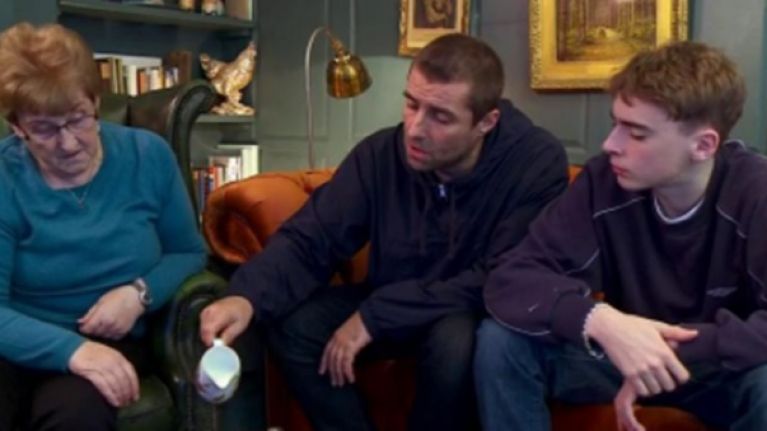 As an Irish Mother you can see how cut up she is by the disintegration of her own children's relationship with each other. There's even a quick clip at the end filmed at her house in Mayo where Noel is ripping it into a picture of Noel on the wall and he doesn't hold back! It's hilarious but also incredibly sad how much they really hate each other.
The singer found himself in a very dark place after Oasis collapsed and it was only when he was on holiday in Charlestown, Mayo and a chance moment in J.J. Finan's Bar that he reignited his love for music.
All it took was for a pub regular to hand him a guitar and the rest is history.
https://www.youtube.com/watch?v=aPPw18Psnj0
Here is that moment referenced in the trailer:
'As It Was' hits the cinema on June 6.
As You Were.