Getting EXCITED!
Russborough House swings opened its gates today for a sneak preview of the spectacular site as it awaits the arrival of our friends and families for the first EVER Kaleidoscope Festival this weekend 28th-30th June. And with temperatures set to soar this weekend with highs of 25C make sure to pack your sunscreen.
It is here where you will get the first real taste of the treats in store for you on our short mystical journey……..
The team at Kaleidoscope  have JUST released their stage breakdowns too, check them out below:

Stage Times
FRIDAY 28th June
Main Stage 
8.45pm: BellX1

7.15pm: Hermitage Green 

5.45pm: Ryan Sheridan

4.15pm: Orla Gartland                               

3pm: Saarloos
Zozimus Stage
8.45pm: King King Company

7.15pm: Flynn

5.45pm: Eve Belle

4.15pm: Siights

3pm : Rothwell
Saturday 29th June
Main Stage
8.45pm: Imelda May

7.15pm: Riptide Movement

5.45pm: Brave Giant

4.15pm: Kila   

3pm: Josh Gray 

2pm: RuthAnne 

1pm: Laoise
Zozimus Stage
8.45pm: Le Galaxie DJs

7.15pm: Sorcha Richardson

5.45pm: Toucan

4.15pm: Thumper

3pm: Little Hours

2pm: State Lights

1pm: Fiona Harte
Sunday 30th June
Main stage
8.45pm: Tom Odell

7.15pm: Wild Youth

5.45pm: Delorentos 

4.15pm: Wyvern Lingo   

3pm: Dublin Gospel Choir

2pm: Sean & Conor Price 

1pm: Lisa McHugh 
Zozimus Stage
8.45pm: Kormac

7.15pm: Bry

5.45pm: Ryan Mack

4.15pm: Thanks Brother

3pm: Somebody's Child

2pm: JaXson

1pm: Isaac Butler
We pass by the old Hippodrome, built by the 4th Earl of Milton to train horses, which undergoes a transformation from a theatre for families of all ages during the day, to a romantic Cinema under the Stars at night, as we make our way to our first musical encounter – the inimitable Jerry Fish.
Let your inner child run away with the circus, and join The Jerry Fish Electric Sideshow on the Main Lawn.  Our very own showman extraordinaire Jerry Fish will be bringing one of Electric Picnic's most magical and uniquely colourful stages to Kaleidoscope.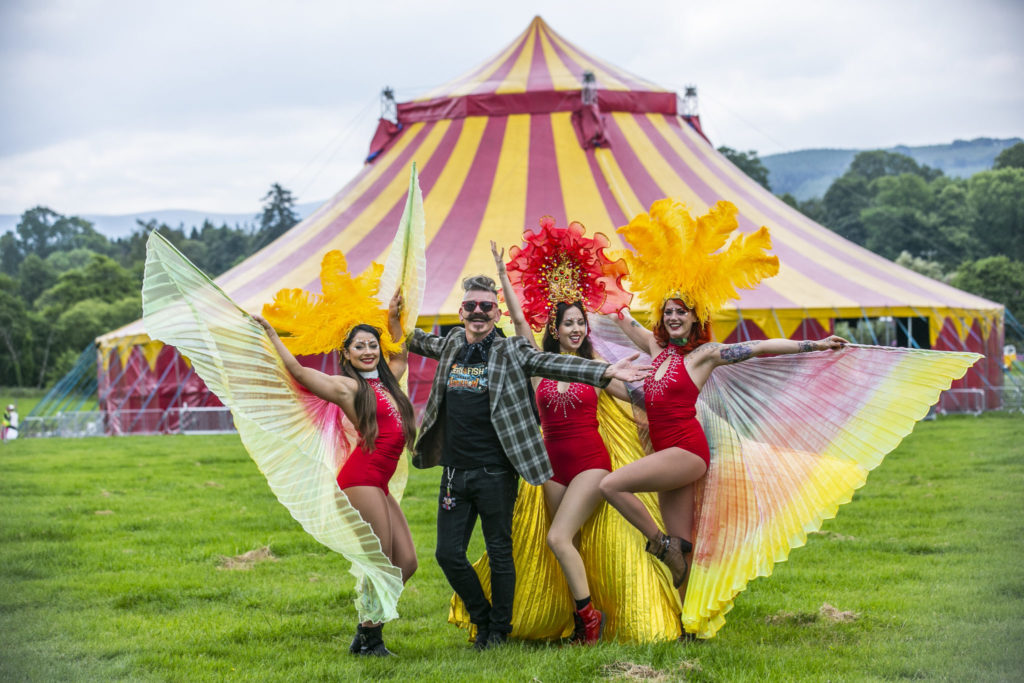 As we head down Lavendar Lane, we happen upon an old Victorian horsebox, or is it? Expect the unexpected as the doors open…
Visiting the second Wonderland area, traverse the magical red Japanese footbridge to arrive on the whimsical Lady Beit Island surrounded by the tallest and rarest trees on the Russborough Estate which will be home to the utterly enchanting Fairy Fort which will play host to an interactive and inspirational programme for the younger children at the festival.
We could think of no better place for a pit stop and treat to you to high tea with nibbles and drinks served in Victorian bone china reminiscent of a bygone era.
Finally as we prepare to head back we swing by the Scrumdiddlyumptious Festival of Food area, where we get the chance to do what your folks always told you not to do: play with your food.