Dwayne Johnson has reassured fans that he is not related to the new British Prime Minister.
Earlier this morning, the Hollywood star said he and Boris Johnson were cousins.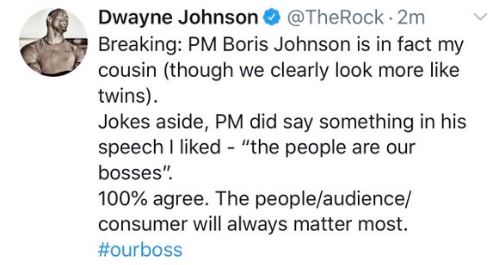 However, The Rock could smell that something was up.
When he took a look at the comments, Dwayne quickly found out what his followers thought of the man with the keys to number 10.
Backlash
Following a bit of a backlash, Dwayne later said maybe they're not related after all.
Dwayne revealed he doesn't know the new British Prime Minister.
He also laid the smack down on any family ties after learning more about Boris.
Well according to the people, maybe we're not related after all ‍♂️
Big mahalo to my people who I can always rely on to give me the real talk and swift perspective & education on the individual I did not know Tequila on me, Britain https://t.co/xbyjVRBhrB

— Dwayne Johnson (@TheRock) July 29, 2019