There have been 1,066 further cases of COVID-19 in Ireland.
Latest figures also show that three more deaths have been reported.
There has been a total of 1,871 deaths and 54,476 cases here.
Of the cases reported today:
536 are men/528 are women
67% are under 45 years of age
The median age is 32
Some 244 of the cases are in Dublin, 104 in Galway, 98 in Cork and 92 in Meath.
The remaining 528 cases are spread across all remaining counties.
As of 2.00pm today, 313 COVID-19 patients are hospitalised - of which 37 are in an ICU.
There have been 20 additional hospitalisations in the last 24 hours.
While Cavan remains the county with the highest 14-day incidence rate per 100,000 population.
It has a rate of 1,055.5, followed by  Meath on 659.9, Westmeath at 417.9 and Monaghan on 404.0.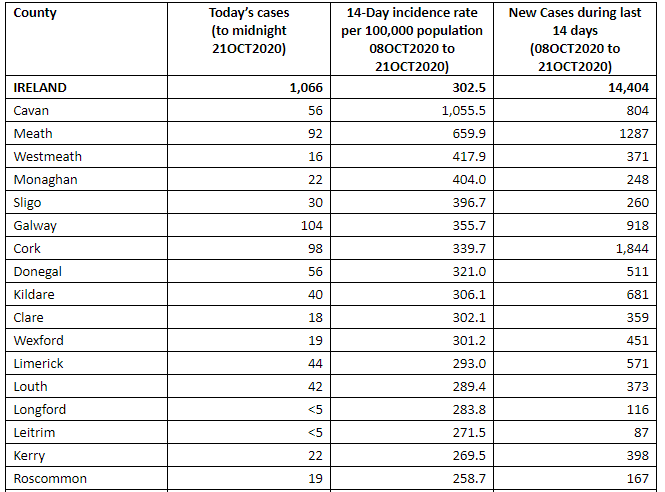 Tipperary has the lowest rate at 120.3 - the national average stands at 302.5.
In comparison, the lowest national 14-day incidence rate was on July 3rd when the rate was 2.98 cases per 100,000 population.