The funeral of journalist Lyra McKee has taken place in Belfast this afternoon.
The 29-year-old was shot dead during riots in Derry last Thursday.
President Michael D Higgins, Taoiseach Leo Varadkar and British Prime Minister Theresa May were among the Irish and British politicians in attendance.
In his opening address, Dean Stephen Forde said: "Lyra was a person who broke down barriers and reached across boundaries - this was her hallmark in life, and this is her legacy in death".
A friend of Lyra's, Stephen Lusty of her attempts to cook and her questions about why Protestants ate more vegetables then Catholics.
He observed: "There were many times when her social media posts contained photos of culinary projects: was that dinner or the fading embers of a 11th night bonfire?
"Irish stew or lemon meringue pie - we could never tell".
He added: "Despite her tender years, Lyra had the grace of Mary Robinson, the connected humility of President Higgins, the drive of fairness of Baroness Blood, the imagination of Tolkien and the energy of Oprah Winfrey".
In his address, Father Martin Magill said: "I dare to hope that Lyra's murder on Holy Thursday night can be the doorway to a new beginning. I detect a deep desire for this.
"To those still intent on violence, I ask you to listen to the majority of the people on your beloved island of Ireland who are calling on you to stop."
Some mourners wore Harry Potter, Hufflepuff and Marvel-related clothes after a request from Lyra's partner Sara Canning.
Earlier, the family of Lyra McKee said she was a "gentle innocent soul" who wouldn't wish ill on anyone.
In a statement, they said Lyra would've wanted hate and intolerance to be overcome with "love, understanding and kindness".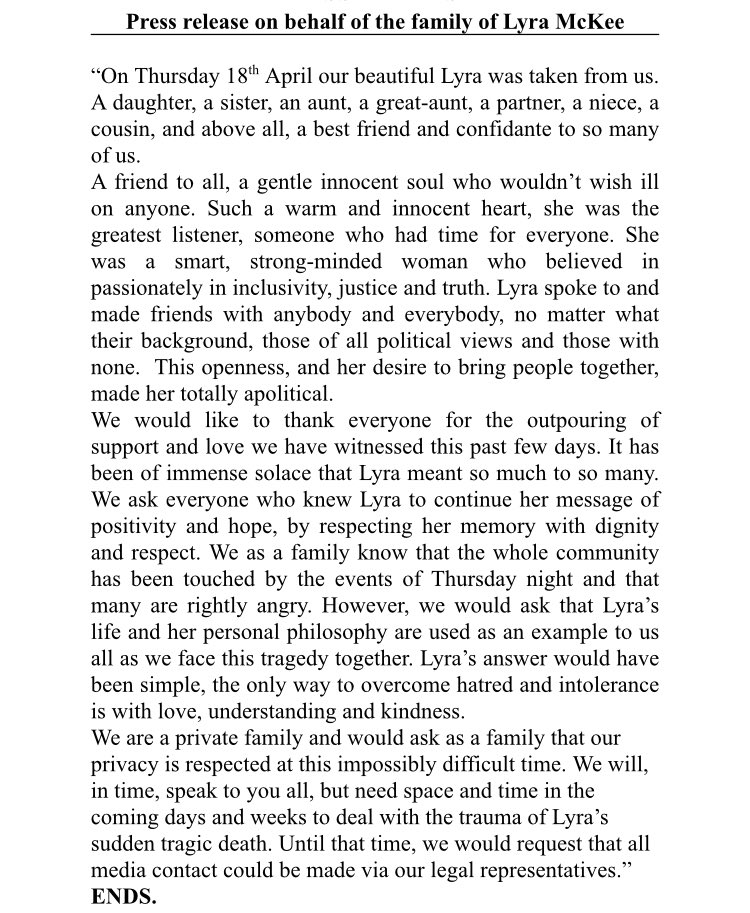 A group calling themselves the New IRA claimed responsibility for Lyra's killing.
A 57-year-old woman, the third person to be arrested in connection with the murder, was released without charge last night.
A vigil took place at Dublin's Garden of Remembrance last night, organised by the National Union of Journalists.
Main image: A mourner wearing a Gryffindor scarf holds an order of service as she arrives for the funeral of murdered journalist Lyra McKee at St Anne's Cathedral in Belfast. Picture by: Brian Lawless/PA Wire/PA Images