For most of us, ironing is one of the greatest banes of our domestic lives. That is of course if you iron at all?
But how could anybody not want to get rid of those pesky creases eyeballing you and laughing at you on a daily basis? Well that's what Dermot and Dave listener Pádraig in Cork wanted to know.
P was having an office debate with his colleagues where they broke it down into three types of ironers - the 'everyday', the 'weekly/Sunday bulk' and 'never'.
He's firmly in the 'bulk' camp but was looking for the show's help to find out on average how frequent the rest of Ireland smooth out their garments.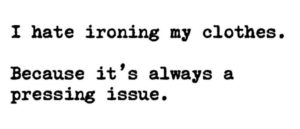 So being the helpful and good natured fellas they are, D&D decided to do a poll and ask Today FM listeners for their opinions, and there was everything from ice cubes in the dryer to people ironing their hair!
The overall result was surprising:
Everyday - 13%
Weekly/Sunday Bulk - 34%
Never - 53%
To an avid/OCD ironer like me, this 53% statistic hurts my brain, but then you have Dermot and Dave who barely know what an iron looks like. Dave couldn't even find the ironing board in his house for God's sake!
Check out the fun in full by pressing the play button on screen.