An anomalous Australian Open has concluded with the world's finest pair of players sitting atop the Melbourne mountain. It took extraordinary effort from everyone to reach that summit.
The 2021 Australian Open got off to a rocky start before beginning when it was delayed by three weeks. Many in Melbourne felt it should not proceed amid the COVID-19 crisis when several Australian citizens around the world are unable to return home due to strict international border control measures enacted to combat the virus.
This sentiment was exasperated when that now-infamous 7NEWS Melbourne report alleged that Novak Djokovic issued a "list of demands" to Tennis Australia chief Craig Tiley to ease the tournament's strict coronavirus protocols for players. Nick Kyrgios responded by labelling the world no.1 "a tool"; Djokovic stated that recommendations by a collection of players were misrepresented as demands. No matter, Tiley and Victoria premier Daniel Andrews were unmoved.
Seventy-two players were forced into a hard 14-day hotel room quarantine after positive coronavirus cases were confirmed on flights from Doha, Abu Dhabi and Los Angeles. Fifty-one of the 72 were singles competitors and just one progressed beyond the third round. Fans were permitted entry but only at half capacity and the actual attendance was reportedly lower again.
At 11.30pm on the first Friday of the tournament, supporters were instructed to immediately vacate the premises ahead of a fresh five-day circuit-breaker lockdown following a cluster of COVID cases in a Victoria Holiday Inn. Fans returned for the semi-finals, but Tennis Australia estimates a $100m loss from hosting this tournament and have already eaten into their $80m cash reserves. The situation requires a considerable loan of $40-60m to ease the strain.
Was it all worth it? Time will tell, but the first grand slam of 2021 has been appropriately tumultuous for the year that's in it. Amid all that chaos, calm was restored among the status quo as Djokovic and Naomi Osaka were the two left standing.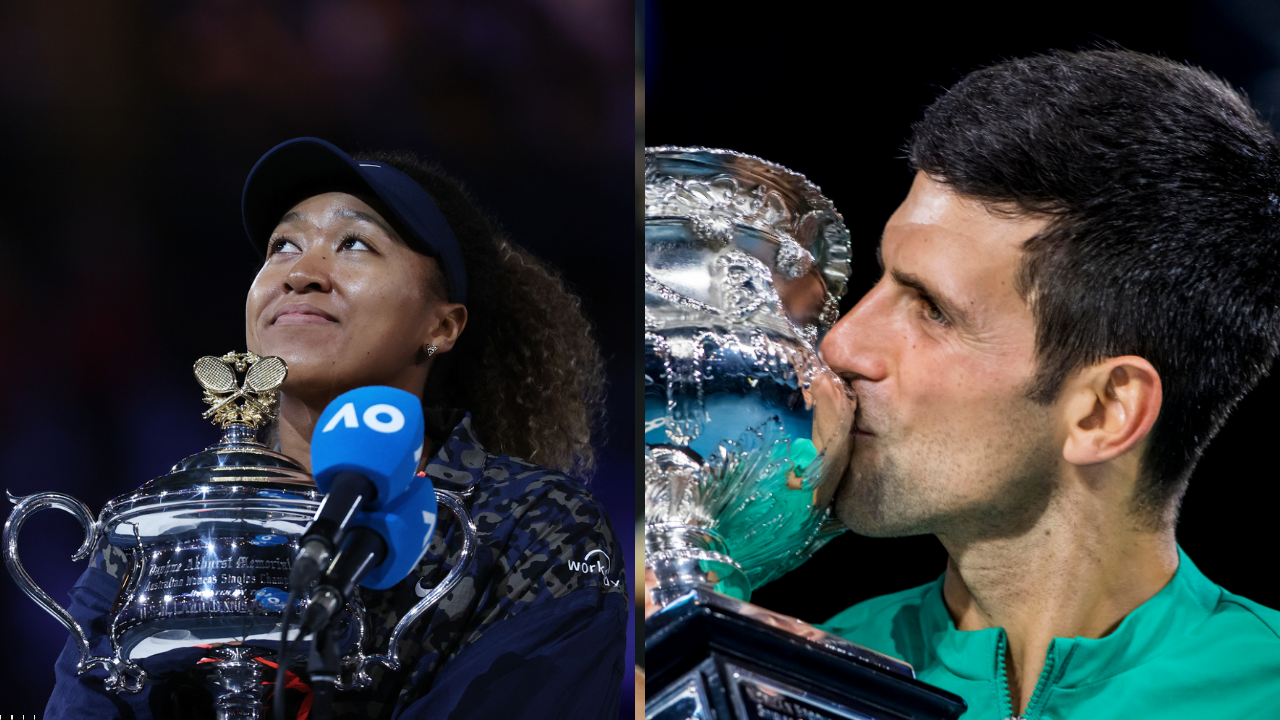 Djokovic is the supreme King of Melbourne - he needed that
Nine Australian Open finals, nine unprecedented Australian Open victories. He has spread his domination Down Under across 13 years when he first lifted the trophy at 20 years of age in 2008 against Jo-Wilfried Tsonga. Now 33, Djokovic has just added his third in succession and 18th overall grand slam. It is a stupendous record that is growing, but it has been a testing time for the Serb with much of the stress self-inflicted.
Since beating Dominic Thiem in last year's decider, Djokovic has had to contend with the fallout of his initial attitude towards COVID, his anti-vaccination stance, his dramatic US Open disqualification, his limp performance against the human wall of Rafael Nadal at the French Open final and the reaction to his frustrations with quarantining in Australia.
The abdominal injury he suffered throughout this tournament was so bad that after his fourth-round win against Milos Raonic, Djokovic said he would quit if it was any other competition. He smashed his racquet in frustration during a dreadful quarter-final with Alexander Zverev. And against Daniil Medvedev in the final, he was playing against an opponent on a 20-match winning streak who won 12 out of his last 12 matches against top 10 players, including besting Djokovic at the recent ATP Finals in London which pits the game's best eight players in direct competition.
Throughout it all, Djokovic prevailed in straight sets, breaking Medvedev's spirit on multiple occasions this past Sunday. As his coach Goran Ivanisevic admitted afterwards, Djokovic needed this win. His boy got just that.
#AusOpen

Let me tell you a story. Lovely words for Djokovic from Medvedev.

Video: Australian Openpic.twitter.com/GKrlxqwX91

— The Field (@thefield_in) February 21, 2021
Osaka is on the cusp of transcending the sport
Naomi Osaka was 15-40, 3-5 down in the final set of her last-16 encounter with the 2020 finalist, Garbine Muguruza. The 2019 champion and current US Open holder looked like a goner. Ten minutes later, Osaka had booked her place in the quarter-final. She won that set 7-5. In the semi-final, Osaka easily beat the greatest of all-time, Serena Williams. That is just what Osaka does on hard courts.
At 23, Osaka has won the US and Australian Open twice each in the last two and a half years. She has won more grand slam titles (four) than tour championships (three). Osaka is the first female since Monica Seles in 1991 to win her first four grand slam finals - the only other player to achieve that feat in the entire Open era? Roger Federer.
Omg no 😭😩 I promise you my mind thought I called her Jenny in that moment and I was so confused why the crowd was laughing. I'm so sorry 😣 https://t.co/fqS3nPBb1C

— NaomiOsaka大坂なおみ (@naomiosaka) February 21, 2021
She remains no.2 in the WTA rankings behind Ash Barty because of the skewed COVID-related rankings but make no mistake, Osaka is the best in the business at present. Jennifer Brady - appearing in her first slam final and the only singles player in hard quarantine to go beyond the third round - competed until the bitter end, but was ultimately no match for a player who eclipses Williams in power and accuracy on all strokes.
A class act on the verge of transcending the sport, should Osaka add a French Open or Wimbledon title to her crown, 2020's highest-paid female athlete will become a global star who everyone will know regardless of one's interest in the sport. In other words, Naomi could be the new Serena.
RELATED ARTICLE: THE AUSTRALIAN OPEN PEAKED ON FRIDAY AND FANS MUST GO HOME NOW
Aslan Karatsev & Su-Wei Hsieh laugh in the face of the establishment
So obscure was Aslan Karatsev that Djokovic acknowledged having never seen his 27-year-old challenger play prior to this Australian Open. To say that the world no.114's Wikipedia page was sparse is an understatement. Karatsev had only won a handful of ATP Tour matches - let alone tournaments - until two weeks ago.
He raised eyebrows after his comfortable third-round straights sets win over the eighth seed and world no.9, Diego Schwartzman. Karatsev had tried and failed to qualify for nine previous grand slams, so when he came from two sets down to beat the Canadian prodigy Felix Auger-Aliassime, folks stopped in their tracks. When he went a step further by out hitting the former world no.3 Grigor Dimitrov (who was clearly injured), the globe took notice.
In winning that quarter-final, Karatsev became the first player in the Open era to make a semi-final on his grand slam debut and just the fifth qualifier ever to reach the last four of a slam. He earned an estimated $662k for his fortnight's work which comfortably surpassed the $618k he had made in total to that point.
This run for the Russian means no more qualifiers for the foreseeable future. That is life-changing for struggling tennis players toiling at Challenger events and inspirational for those in need of encouragement.
"Just like Rafa Nadal has French Open dominance and just like Roger Federer has Wimbledon, Djokovic has the Australian Open."@ColmBoohig joined #OTBAM to discuss Novak Djokovic's #AusOpen triumph.@GilletteUK | #MadeOfWhatMatters pic.twitter.com/TXogqytfQJ

— Off The Ball (@offtheball) February 22, 2021
Meanwhile, at 35 years old and without a sponsor, the maverick Su-Wei Hsieh became the oldest first-time quarter-finalist in the Open era.
To put this achievement into context, Hsieh reached the final eight of the Australian Open juniors 20 years ago. Hsieh's peers marvel at her imaginative shot-making, with Osaka sharing her anxiety in advance of their showdown. She is a throwback to a different era. Hsieh's technique is formidable, as demonstrated when she went three years using the same racquet because she never broke a string, a feat only achievable with consistent accuracy.
Hsieh attributed her upsurge in form to thinking that her boyfriend's parents were falling asleep when watching her at Roland Garros, so she consciously stepped up her displays and has been defeating top 10 opponents since.
Watch Colm Boohig, Ger Gilroy and Nathan Murphy discuss the fallout from a unique Australian Open on OTB AM:
Fans are fun, but hosting tournaments is hard
Tiley has acknowledged that Tennis Australia is relying on the future success of the Australian Open in order to simply break even, such is the extent of the organisation's financial burden.
Limited crowds, the absence of any for five days with no merchandise sold during that period, transport costs and stringent quarantine measures for over a thousand people have taken their toll. There has also been an emotional price, with Tiley telling Australian media that he suffered 15 successive days of verbal abuse over nightly Zoom calls from disgruntled players on both sides. According to his Fitbit, he barely slept over six weeks and his family had to temporarily move out such were the stress levels.
Was it worth it? The main justification for proceeding with events was proving that grand slams with supporters can occur during global pandemics. More cynically, many felt that Tennis Australia feared losing its hosting duties of this slam to lucrative markets like China, Japan or Singapore if they did not proceed.
Nevertheless, Melbourne Park is contracted to host the Australian Open until 2039. Time will determine its viability.
Fans turned on Tennis Australia President Jayne Hrdlicka at the Australian Open, with unruly crowds booing her at the mention of the COVID-19 vaccine. #9News pic.twitter.com/GHJv7XQQZf

— 9News Australia (@9NewsAUS) February 21, 2021
Fans have been vocal over the fortnight, as we saw in moments with Djokovic, Nadal, Kyrgios and Stefanos Tsitsipas. As part of her address in the men's post-final ceremony, Tennis Australia chairwoman Jayne Hrdlicka said, "With vaccinations on the way rolling out in many countries around the world, it's now time for optimism". She was roundly booed by a suddenly angry crowd much to her clearly visible surprise.
Hrdlicka finished her speech by telling her captive audience that they certainly are "opinionated", delivered without a semblance of irony. These are tumultuous times in tennis and beyond.
Big Three race nears its conclusion, while Serena has one more chance
Roger Federer last won a slam three years ago in Melbourne. He has not competed in over a year and had knee surgery last June. This summer, he is turning 40. If the Swiss icon is not to add to his 20 grand slams, Nadal and Djokovic will surely lead the way.
Between the pair, the Serb and Spaniard have collected 10 of the last 11 slams on offer, with Thiem's victory at the recent US Open an outlier after Djokovic's disqualification and by Nadal not competing.
Although he blew his chance to set the all-time slam record at this Australian Open by losing a two-set lead for just the third time in his whole career, expect Nadal to edge ahead of Federer on 21 at this year's French Open.
But if Djokovic clinches Wimbledon and the US Open - he will be favourite for both - then he will be level with Federer and one behind Nadal. Repeat that winning cycle in 2022 and Djokovic, the youngest of the trio, will be in position to finish as the greatest ever. How will the watching world react to that?
Meanwhile, Serena Williams remains on 23 majors after falling to a younger version of herself in Osaka at the last four stage in Melbourne. She last won a major at the 2017 Australian Open.
If she is to finally surpass Margaret Court then this summer's Wimbledon, where she has won seven titles, presents her best opportunity. Soon after, she, like Federer, turns 40. Consider 2021 as her last chance to be peerless.