The GAA has outlined its roadmap for a return to play, but inter-county action will not resume until mid-October.
The Safe Return to Gaelic Games document was drafted by the association's COVID-19 Advisory Group.
They say their recommendations are made, "having studied the best advice available from the Governments and National Health agencies on the island of Ireland, as well as other sporting bodies (separate advice, based on local considerations and consistent with jurisdictional obligations will need to be provided for clubs outside of Ireland).
The roadmap adheres to the Government's original five-step plan, despite today's speeding-up of that plan which effectively eliminated phase 5.
Walkways around GAA pitches will be allowed to re-open on Monday (June 8), however pitches themselves will not re-open until June 29 when small group training will be allowed.
Outdoor collective training will be allowed to resume on July 20.
However, each team returning to training has a nominated Covid Supervisor who will be responsible for ensuring COVID-19 protocols, including collation of health questionnaires, and cleaning and sanitising of facilities are followed. They will also be responsible for ensuring only necessary personnel are admitted to the venue for a training session or game.
Access to indoor facilities - including changing rooms - will not be allowed until August 10.
Club competitions will be allowed to resume on July 31, and could even allow for a limited number of spectators based on government guidelines.
The club season will then run until October 11.
Inter-county training can resume on September 14, with competitions not returning until October 17 at the very earliest.
No decision has been made on the completion of this year's Allianz Leagues, but the preference remains to play them to a finish.
The roadmap also applies to Ladies Football and Camogie.
While changes to the government roadmap haven't changed the GAA's approach, they say they will remain flexible regarding their own timeline.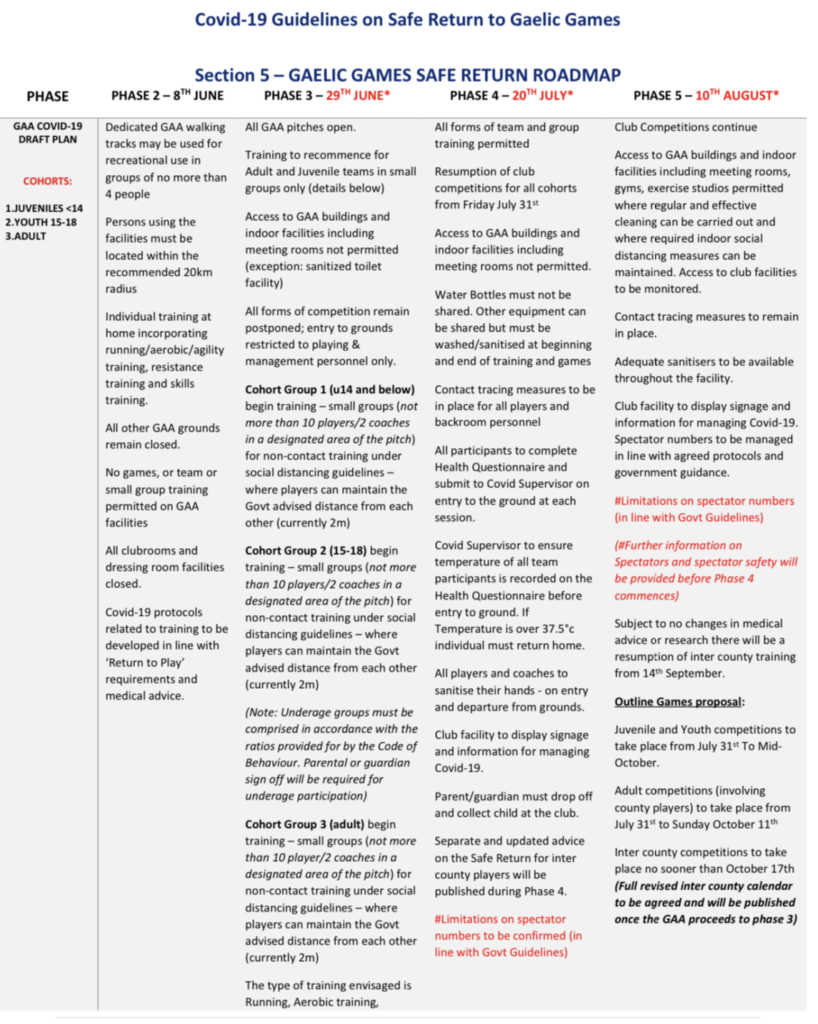 Key dates: 
June 8: Walking areas around pitches may open June 29th - GAA pitches to re-open and small group training permitted
July 20: Outdoor collective training can resume, COVID supervisor to check temperatures and health questionnaires must be completed beforehand, separate water bottles, must sanitise hands.
July 31: Club competitions can resume. Limitations on spectators based on government guidelines.
August 10: Indoor facilities will open.
September 14: Inter-county training can resume
October 17: Likely date for inter-county games resuming