Republic of Ireland manager Mick McCarthy has hit back at Vinny Perth who suggested this week that Dundalk star striker Pat Hoban is being overlooked at international level.
The Lilywhites boss was quoted in the Dundalk Democrat this week, heaping praise on the 2018 SSE Airtricity League top scorer who has scored six goals already this season.
"He is fast becoming a Dundalk legend with his goals," said Perth. "He's got 81 goals in around 130 appearances, or close to those stats. That's phenomenal. People have been capped for less."
McCarthy is not the first Irish senior international manager to feel heat from some of those involved in the domestic game who believe that there are some League of Ireland players who are capable of playing senior international football.
"Look, everybody's got an opinion on [it]," replied an exasperated looking McCarthy when Perth's comments were put to him. "And especially their own players, that they've done less and got into international squads.
"How does he know that? How do they know that?!
"It's great isn't it? Let's have a dig at the national team manager because he's not looking at this player or that player and he should be in the squad."
McCarthy has long been an attendee at domestic league games, most recently last night's Dublin derby (alongside former Irish skipper Robbie Keane) at Tallaght Stadium, and even when he was a club manager in England when he scouted a number of players before signing them.
The 60-year-old seems miffed by the negativity he is still encountering,
"I'm not convinced by that. We're trying to get around and watch the games.
"Let them get in the squads! Let them keep playing well, let them get in the squads.
"And do you know what?! I'm gone out of here in twelve months time anyway, I'll do the European Championships, please God we qualify, I'm gone. Stephen Kenny will know all those players and then he can pick all those.
"Won't that be great."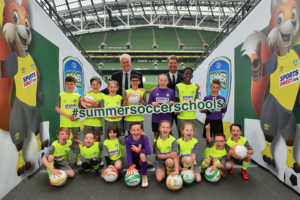 McCarthy was at the launch of the Sports Direct FAI Summer Soccer Schools. Places are still available around the country. Book now on www.summersoccerschools.ie