Brighton boss Graham Potter has hailed Liverpool's achievement in bouncing back from last season's Premier League disappointment to finally win the title.
Manager Jurgen Klopp's team finished second to Manchester City last season despite an impressive haul of 97 points, one point short of the winners.
They wrapped up this season's title with seven matches to play and the host manager is relishing the chance to take on the newly crowned champions when they visit Brighton on Wednesday night.
"Liverpool have been amazing this season. They are thoroughly deserved champions and it's great for us to have that level of opposition," Potter said in his press conference ahead of the meeting of the two sides.
"They'll certainly be up there, absolutely," he replied when asked if the Reds look set to dominate English football in the coming years.
"There's a lot of big, powerful clubs at the top of English football. They'll know that but they'll be there challenging.
"Jurgen has done a fantastic job. They're a wonderful team with wonderful clarity of how they play. Everything about them is at such a high level.
"To be the champions of Europe and then push Manchester City last year, all the way and to recover from that disappointment, to go again and get stronger, it's a fantastic achievement.
"They'll be certainly up there challenging for everything."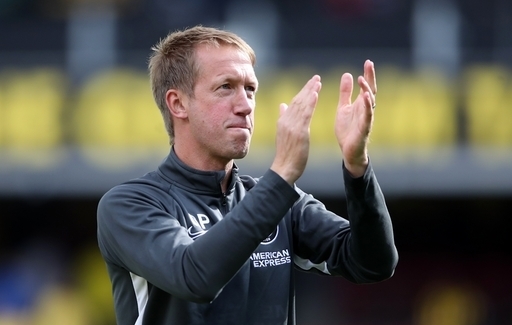 Potter looked in relaxed mood despite facing the challenge of taking on this season's champions and last season's champions in the space of three days.
The 1-0 win at Norwich City on Saturday took Brighton's tally for the season to 36 points and lifted them nine points above the relegation zone ahead of back-to-back games against Liverpool and City.
A finishing total of 36 points was enough to keep Brighton in the top-flight last season, and Southampton the season before that, but Potter is determined to bag more from their last five fixtures to ensure their survival this term.
"Overall we're delighted with the three points but, as I said after the game, we've still got a lot of work to do and we've got five games to go to get as many points as we can and keep fighting," said Potter.
"We're playing against the champions so it doesn't come any more difficult than that."
Potter confirmed that Jose Izquierdo remains the only other Albion player sidelined through injury while a decision will be made on Steven Alzate ahead of the game.
"Jose Izquierdo is still some way away, he'll be more for further in the future," said Potter.
"We're monitoring [Alzate] daily, we'll have to make some decisions over him in the next few days.
"He looked like he was struggling slightly in training on Monday, so we'll have to see."