Manchester United have some small glimmer of hope going forward as Ole Gunnar Solskjaer appears to have determined which players should depart the club this summer, according to journalist Daniel Harris.
"I think at least now there is slightly more hope," stated Harris on Thursday's OTB AM, "because there is a manager [with] a good idea of which players are definitely not good enough."
Conceding that he remained unsure whether or not Solskjaer himself is good enough to oversee United's resurrection, Harris, who found himself in Old Trafford for last night's Manchester derby clash, believes Solskjaer's team selection for the City clash was revealing.
"I don't think he thinks [Nemanja] Matic is good enough, I don't think he thinks [Ander] Herrera is good enough, I don't think he thinks [Juan] Mata is good enough, I don't think he thinks [Romelu] Lukaku is good enough," Harris explained, "and he seems to have had enough of what Anthony Martial considers a hard night's work."
Crucially, Harris believes this places Solskjaer in a significantly more privileged position than his three immediate predecessors.
He'll the money United might have intended to spend getting Mauricio Pochettino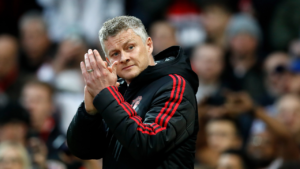 Not the extent of Manchester United's woes in terms of playing-staff, the question of how successfully Solskjaer can implement change is a different matter.
"It very rarely happens that you see that many ins and outs," Harris conceded with one eye on this summer's transfer window.
"If you think about the money that ought to be available, bearing in mind how the Glazers operate, there is the money they would ordinarily have in the summer; however much that is, let us say £100 million.
"Then there is the money that they withheld from [Jose] Mourinho last summer because they didn't trust him.
"Then there is the money they saved and might have intended to spend getting [Mauricio] Pochettino, probably another £50 million.
"Then there's the money they're going to generate with transfers, although perhaps they're going to have to pay some players to go away."
Despite the copious amount of money Ole Gunnar Solskjaer may have at his disposal this summer, Harris was quick to acknowledge that the inexact science of signing footballers remains an avenue of management the Norwegian has yet to prove himself capable of navigating.