Maguire has every right to feel confident after scoring his first senior goal for the Republic of Ireland.
"A weight off my shoulders" was how  Maguire described the occasion.
The Preston striker scored against New Zealand in the friendly win at The Aviva Stadium. While admitting he "hit it sweet"  the strike was untypical:
"It isn't really the type of goal I normally score. The two chances that I got in the first half, they are (more like) the type of goals I score all the time.
"To get that one where it comes out from my feet and you just have to hit it. The moment it leaves my foot it's gone into the back of the net."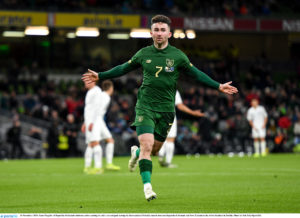 Emotions
The enormity of the occasion clearly got to the Preston striker after scoring:
"All those emotions, of scoring (come out). I made my debut two and a bit years ago, so to finally get that goal tonight is a dream come true. It's that weight lifted off my shoulders.
"Normally I have a celebration or two in me but tonight, I felt I just all emotional. Scoring for your country is what you dream of doing when you start playing football from a young age. I'm really delighted I scored tonight."
Despite his protestations, the goal wasn't that unique for Maguire, he netted a comparable strike previously at Lansdowne Road:
"It was similar to my last goal at the Aviva to be fair (smiling - For Cork City). Nah it (this occasion) was a bit different. Scoring goals you can't really describe that feeling."
Maguire admitted to feeling some pressure having not scored for the Republic of Ireland, hoping it's the first of many:
"For the likes of myself, caps keep building and you don't seem them goals racking up, so hopefully, I can kick on now."
Competition
Given the talent among the next generation of Irish strikers, the goal was welcome for Maguire:
"The competition just gets fierce, you just go into training and want to beat your strike partner. it's a healthy competition.
The Preston man is enjoying the friendly rivalry and has been impressed by Troy Parrott in particular:
"It's brilliant, I've been really pleased with the way Troy has come in this week, for a lad 17 years of age.
"The build and the stature he's got, you saw it tonight, at times I thought he bullied their two center-halves.
"He made runs in behind, dropped short, he played a proper number nine's performance, I was really pleased for him. He set up my goal."
While the win over the All Whites was enjoyable for the former Cork City Striker, he is in no doubt about what is most important:
"A European Championship, potentially two games at the Aviva when we win on Monday. It's massive for the country.
"Two years ago Denmark knocked us out in a WC play-off. We want to get revenge and get the three points on Monday."