It doesn't matter how famous you are, how many people love you all over the world and how much money you have in the bank, you will still manage to embarrass and annoy your children...
'The Apple Of My Eye'
Gwyneth Paltrow is no different. She might be an Oscar winning actress but her daughter Apple, who is 14, doesn't give a hoot. In fact, she's totally over it. Gwyneth posted a picture of herself and Apple on Instagram yesterday, a lovely shot of the two of them on a skiing holiday. But, Apple was none too pleased....
 

View this post on Instagram

 
'God, Mom'
She had to rap her Mam on the knuckles, commenting beneath the picture  'Mom, we have discussed this. You may not post anything without my consent.'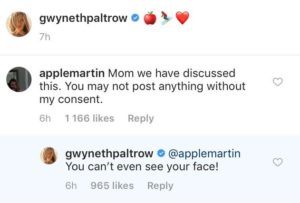 Now, that's her told....
For more showbiz news, tune into The Ian Dempsey Breakfast Show, every weekday morning from 7am.