Surely every third-level in Ireland needs a dog like Jimmy?
Heroes come in all shapes and sizes, but this little guy just might be the cutest one we've ever seen.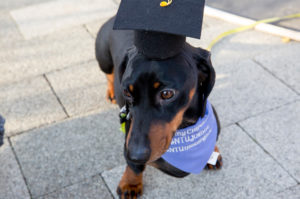 Sausage dog Jimmy Chipolata (what a name btw) is a familiar face at Nottingham Trent University, where he works part-time with owner Debra Easter to help stressed-out students find some comfort.
If you've ever been to college, you know the pressures that come with it - the workload, exams, late nights in the SU, no food, no money...the list goes on. So who wouldn't want a snuggle with the irresistible sausie to help them chill out?
He was even spreading love on Valentine's Day:
#HappyValentinesDay ♥ from Jimmy Chipolata! Spending it alone?💔Meet @jimmycNTU at the #Spark 'Love Enterprise' event today 12.00pm-2.30pm at the City SU. Plus, FREE doughnuts from @Doughnotts🍩What more could you want on Valentines Day!? pic.twitter.com/wTJP9B5B4W

— NTU Employability (@NTUYouFirst) February 14, 2019
Debra rescued her pooch two years ago and believes he's worth his weight in gold (well a much heavier weight) on campus, saying, "students really like having Jimmy around...our staff and students' wellbeing can be improved by stroking Jimmy".
A snap taken last year before Jimmy was 'employed':
Just met Jimmy Chippolatta, @TrentUni s very own stress busting rescue daschund and owner Deborah Easter during the 3000 hour volunteering challenge pic.twitter.com/gzGgVKfQKG

— Edward Peck (@ProfEdwardPeck) June 7, 2018
All they need to do now is train him to fetch chicken fillet rolls and they would be in heaven!
And you can just call me Stewart Chipolata from now on...