There's a new Christmas voice in town!
Is Robbie Williams about to be the Grinch Who Stole Christmas? We've all seen the meme of Michael Buble crawling out of the cave in December with the joke being that he's been defrosting all autumn in anticipation of HIS season – Buble owns Christmas. Not any more! Robbie Williams has said enough is enough and he has recorded a 28 track album called The Christmas Present and he's hoping he will become the new face and sound of Christmas!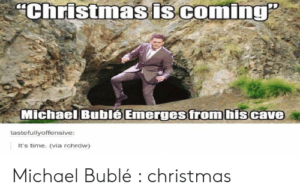 Taylor Swift made a surprise visit to Abbey Road Studios as various different celebs recorded an album for this year's Children In Need in the UK. Loads of different British actors have recorded covers of their favourite songs to raise money, and an actor called Shaun Dooley covered Taylor Swift's Never Grow Up – and Taylor stopped by to say hi as he recorded it. No pressure! The documentary of the making of the album called Got It Covered will be shown on BBC1 on October 30th.
Mary Berry cheated on her husband! Waaaay back in the 60s she said she had another boyfriend while going out with her now-husband Paul Hunnings, to whom she has been married for 53 years. Paul was her London boyfriend and she had another one in Bath.