Gift Grub has been bringing massive smiles to our faces for 20 years now and it truly is the Gift that keeps on giving!
⬇️To mark this milestone, Mario has complied thirty of the most popular sketches from over the past two decades and we need you to vote for your favourite one ⬇️
All 30 Gift Grubs are below, tune in to Mario and Ian Dempsey this Saturday from 2pm on Today FM when they will reveal the winning Gift during a special live countdown show!
Gift Grub - Dry Your Eyes Becks
First up - let's wind the clock back to 2004 and the UEFA European Football Championship in Lisbon. Remember when Fabien Barthez saved David Beckham's penalty? Well Roy Keane was there to be a shoulder to cry on (of sorts) as he and Becks did their version of The Streets' 'Dry Your Eyes'...
Gift Grub – Cowen & Fitzy's Anglo Golf Game
An infamous golf outing at Druids Glen just months after a catastrophic collapse of Anglo Irish Bank's shares. Taoiseach Brian Cowen, former Anglo Chairman Seán Fitzpatrick and some big shot bankers went for a day of swinging clubs whilst discussing fiscal matters...
Gift Grub – BOD Autobiography
2014 - The Test: My Autobiography - Brian Driscoll's best-selling autobiography described as 'Honest, gritty and thoughtful'. Gift created an audiobook with the help of ROG, Paul O'Connell, Brent Pope and many more. Featuring a host of home truths...
Gift Grub – Sky Sports GAA
Have you ever wondered what it would be like to hear the Sky Sports football pundits commentate on GAA? Well back in 2014 (way before Jeff and Kammy's Road To Croker) Mario gave us a taste of what we could expect....
Gift Grub – The Tinker Flatley
Michael 'Feet of Flames' Flatley is as Irish as it comes. Don't believe me? Well listen to this for a dose of Éireannach from the dancer as he chats about his great, great grandfather....
Gift Grub – Leave Right Now
The year wass 2005 and Roy Keane's surprise departure from Manchester United shocked the football world. His and Sir Alex's relationship was at an all time low and the wheels had come off the team's performances on the pitch. So Keano decided it was time to hit the road. This song was also the official Christmas No.1 in Ireland that year...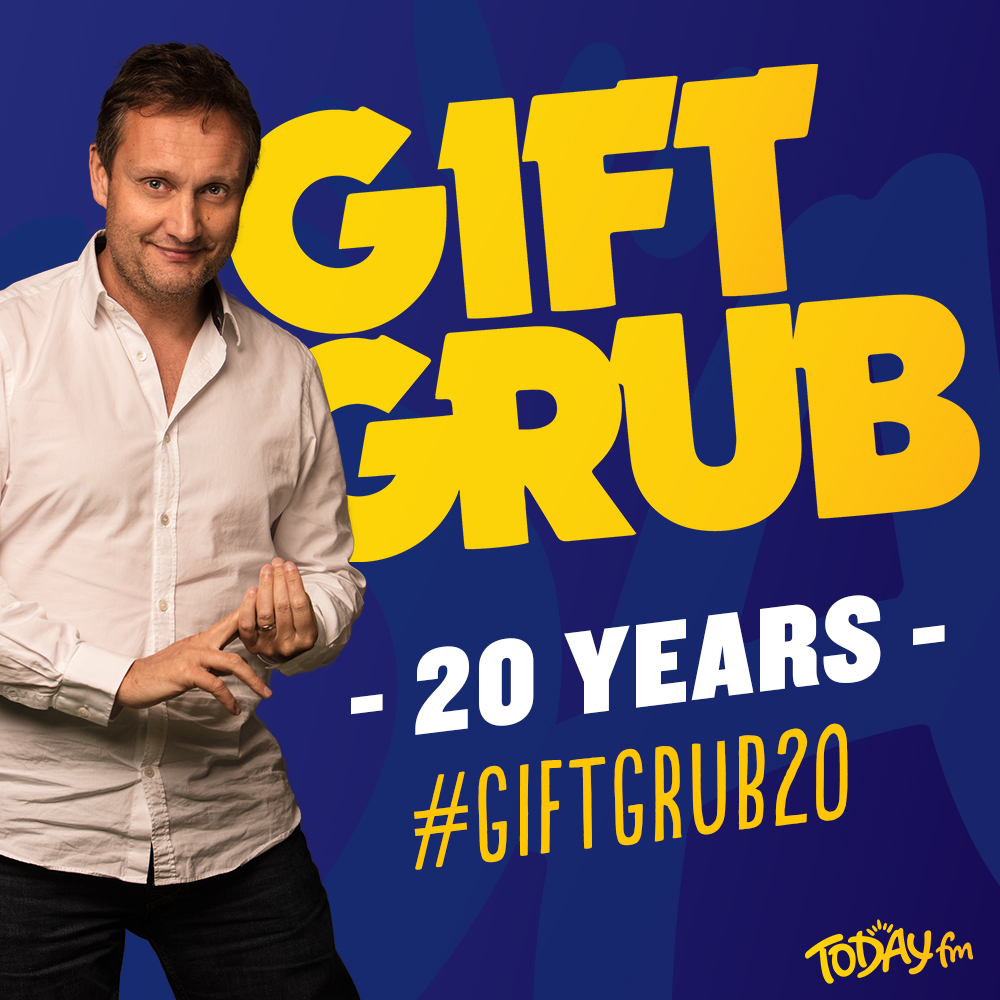 Gift Grub – Michael D Meets Michael D
Six months prior to Michael D Higgins becoming president for the first time, Mario met with the minister at an Outside Broadcast in Galway. To honour the scholar, he wrote a special poem about Miggeldy's beloved Galway United. He also left a few lines for our Uachtairáin and he smashed it!...
Gift Grub – Sir Alex In The Dressing Room
Remember Sir Alex Ferguson's dressing room bust-up? Well Gift got the blow dryer out and gave us a blast of what it was like the day all hell broke loose in Old Trafford....
Gift Grub – World Cup Classroom
This Gift happened the morning Roy Keane exited the Irish camp in Saipan, before the news had actually broke. Mick McCarthy becomes his side's World Cup múinteoir ahead of their opening game against Cameroon. Roy was still pulling the strings though...
Gift Grub – Bertie Bosco
With Frank Twomey having a day off, Bertie Ahern filled in to co-present Bosco with Gráinne Uí Mhaitiú. And sure what could go wrong? Let's just say Bosco isn't his biggest fan...
Gift Grub – Forty Shades of Green
The Gift Grub crew got into the spirit of St Patrick's Day with their uniquely Irish take on 50 Shades of Grey - Forty Shades Of Green. Things got an-gnéasach...
Gift Grub – Michael D's Expenses
After president Higgins getting stick for allegedly stayed in a luxury five-star hotel in Switzerland in 2018, he finally responded to the rumours of his €3,000-a-night holiday, taking to Liveline to battle it out with members of the public...
Gift Grub – Candid Camera Roy
Roy gets stitched up in a financial hoax at his local bank. £52,000 is a lot of moolah though...
Gift Grub – Garda Breath Test
Garda Commissioner Noírín O'Sullivan came under fire back in 2017 after the Garda breath test scandal. And rightfully so. Such lies lads!
Gift Grub decided to get the Gardaí's point of view through the medium of rap. We sense a record deal on the horizon...
Gift Grub – Galway United Saudi Investment
Whilst our fun-sized president was on a trip to Latvia, he received the exciting news that Galway United had been offered the €500,000 investment needed to keep the club afloat.
Saudi businessmen involved, Abdulrahman Al Nemer and Mohammed Al Ruwaite became majority shareholders of the side and with all this newfound wealth, and the transfer window widening, President Higgins' imagination runs away with itself in a beautiful dream of Champions League glory...
Gift Grub – "De De"
'Bertie' joins Iano to have a look back at forty years of Top of the Pops, but when it comes to English post-punk band The The - the two lads lose it altogether! (Ian had a chest infection at the time - hence his voice)...
Gift Grub – The Box
Who could forget the 2006 groundbreaking TV quiz show 'The Box'??
Hosted by Keith "Howaya buddy" Duffy, the contestants had to live in an isolated glass box in the middle of Dublin. No, really...they did.
During the day the two contestants worked together to build up a pot of money and every night they battled against each other to see who got to keep the money. Gift went behind the scenes...
Gift Grub – Leo & Kylie Letter
A couple of months back, Leo Varadkar's fan mail to Kylie Minogue went viral in the Irish media. But why so much fuss over a bit of Government headed paper?
Gift Grub did some snooping and got their hands on our Taoiseach's letters to the Aussie pop princess.
It's Stan vs Eminem all over again...
Gift Grub – The FOGs Perform 'Shotgun'
Ronan 'ROG' O'Gara, Alan 'Quinny' Quinlan and Paul 'Paulie' O'Connell (or The FOGs as they're known) covered one of the biggest song of the summer ahead of their clash with the All Blacks.
George Ezra wouldn't tie their laces!
And they even threw in a Breakfast Show jingle. Talk about spoiling us...
Gift Grub – Bertie Lotto
Imagine if back in the days of the Mahon Tribunal, and all the reported political corruption at the time, Bertie Ahern won the lotto? Gift Grub gives him the six numbers, but would his FF buddy Liam Lawlor do him a favour? Have a listen...
Gift Grub – Liveline Yes / No
Ahead of the Equality vote (or the Thirty-fourth Amendment of the Constitution of Ireland Act 2015 to give it the full title) Joe Duffy hosts a Liveline show in which callers cannot us the "Y" word or "N" word...
Gift Grub – Ronan 'Does' Hollywood
Whilst super famous, Ronan Keating had notions of making it in Hollywood. So Gift Grub jetted him off to Tinseltown to see if he had what it takes. But things don't go as planned. It's worth noting, this was recorded way before the #MeToo movement - so even back then, Mario had a handle on the whole Weinstein situation, as you'll hear in the beginning...
Gift Grub – Roy Meets Roy
You'd want to be a brave man to gaze into the deathly eyes of Roy Keane whilst taking the p*ss out of him, but Mario was in his element at the task. He and Keane sat down mano-a-mano and the real Roy couldn't help but laugh...
Gift Grub – Hector v Hector
He's one of Ireland's most famous Gaeilgeoirs and a ball of pure energetic craic. So imagine what two Hector Ó hEochagáins would be like? Mario surprised the Navan man live in studio and it was just as nuts as you'd expect. But could our listener tell the difference between 'Hector 1' agus 'Hector 2'?
Gift Grub – Do They Know It's Brexit Time
The 'B-word' is never too far away lads and back in December 2017, we thought the only way to sort out this fiasco was through a Band Aid-type appeal.
Forget Bono, Boy George, Sara Dallin and Sting - Leo, Theresa, Boris, Gerry, Paschal and Michael D were the new supergroup in town...
Gift Grub – José & His Amazing Technicolor Overcoat
This skit parodies the musical Joseph and the Amazing Technicolor Dreamcoat as well as Chelsea manager José Mourinho. Mourinho himself liked it so much he invited Mario to a player's dinner to perform it. It reached #45 in the UK Singles Chart...
Gift Grub – Bertie Convoy
With the truckers of Ireland were causing all kinds of trouble in the capital due to their dispute, Bertie did what he did best and found a way of getting on their side. He revved up his own lorry and defused the situation...
Gift Grub – Social Media House
What if each of the platforms were real-life people as opposed to digital phantoms? What would they be like?
Gift Grub dives into a world where cyberspace is in fact humanspace...
Gift Grub – Trapattoni Song
When the silver-haired fox that is Giovanni Trapattoni took over as the Republic of Ireland manager in 2008, the nation's hopes were sky high. Ohh how wrong we were! Roy Keane put his faith in the Italian via his rendition of Puccini's Nessun dorma...
Gift Grub – Prime Time Seagulls Debate
Every year, the threat from those flying assassins seems to be getting worse. So back in 2014, Prime Time hosted a special show where they got the seagull's side of the story. Pure discrimination lads...
The results will be revealed during a one-off special show called Gift Grub 20 COUNTDOWN, which will air on Today FM on Saturday, May 11th, from 2pm - hosted by the two men behind the idea - Mario Rosenstock and Ian Dempsey.