Mastercard want to send you to Rugby World Cup 2019™
Finally, it's here!
Rugby World Cup 2019™, Japan is upon us.
This September you can be in the thick of it with this fantastic prize courtesy of Mastercard.
It will be the first Rugby World Cup to be hosted in Asia and represent an unprecedented opportunity to accelerate the development and profile of the sport across the world's most populous and youthful continent.
Mastercard want to send you and a friend to Japan to watch New Zealand take on the South Africa in Yokohama City on the 21st of September. If that isn't enough you can cheer on the boys in Green against Scotland on the day after! You'll get to take a tour of the stadium and have a priceless man of the match experience to get you closer to the tournament and the players you love.
Stay in a four-star hotel with breakfast and enjoy a dinner out in a Tokyo restaurant with all of your flights and transfers included too. It's a prize money can't buy!
If this sounds like winner to you, just listen in, to Matt Cooper on The Last Word from Monday 12 August to enter!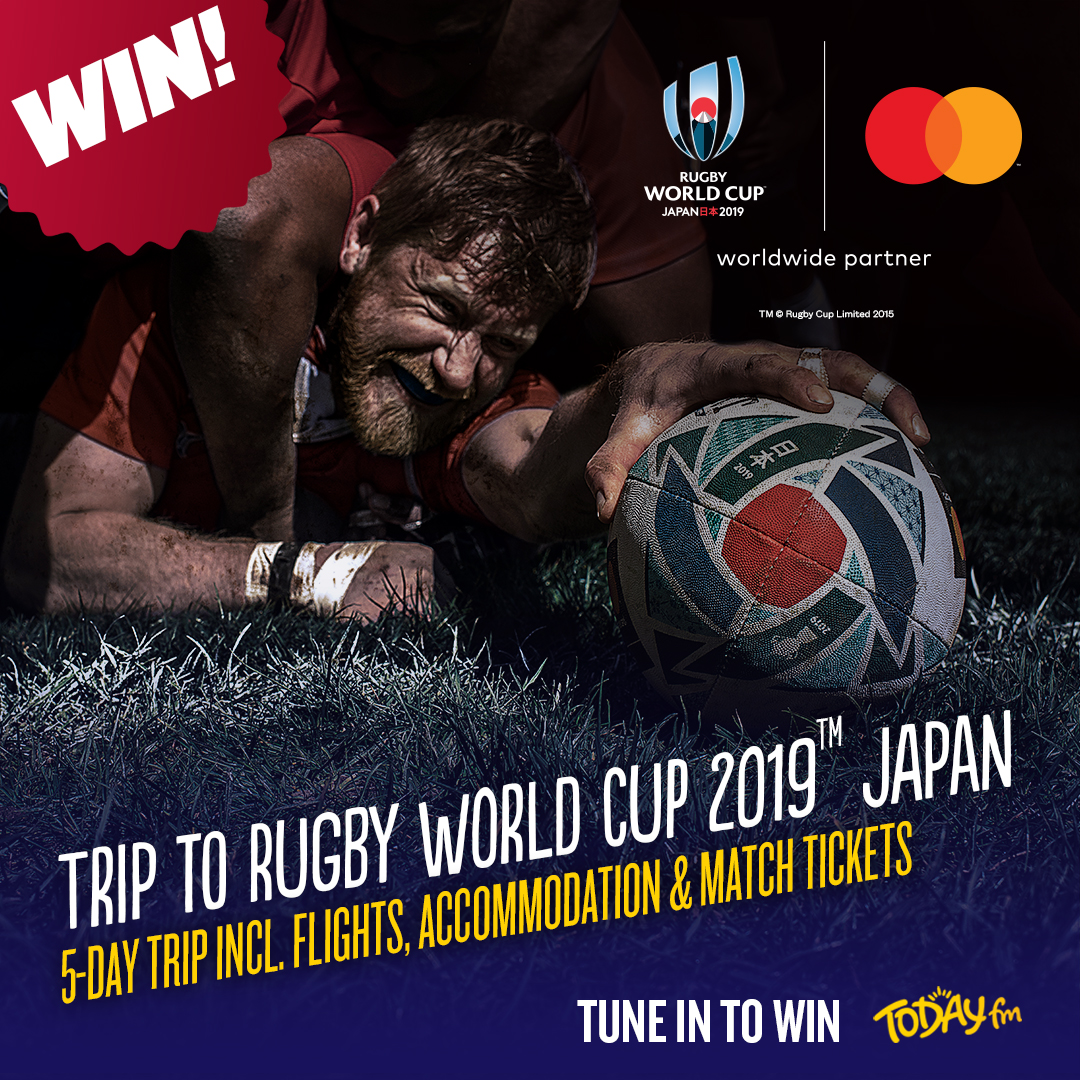 For full terms and conditions see below:
Competition will run from Monday 15th August 2019 – Friday 19th August 2019
Entry mechanic will be a Rugby World Cup quiz – text in the correct answer
Winner will be announced Friday 19th August 2019
Today FM's decision regarding prizewinners will be final, and no correspondence regarding that decision will be entered into.
Today FM prizes are non-transferable, and will only be awarded to the prizewinner.
Use of a false name or address by a competition entrant, i.e. a name by which the entrant is not usually known, will disqualify them from receiving any prize.
Today FM will keep prize winner(s) personal details for a reasonable time in order that prizes can be sent to the prize winner(s); rules can be verified to have been complied with and for accounting purposes. Today FM may only pass prize winner(s) details on to our third parties or sponsors for the purpose of delivering the prize.
Today FM Competitions are open only to residents of the Republic Of Ireland.
For competitions requiring entry by text, the number is 087 4100 102.  Standard network charges apply.
Today FM will ensure that all prizes are delivered within 28 days of winning. Where this is not possible, the station will notify the winner of a delay.
All prize winners have 12 months to claim a prize and if we or our client company do not receive any correspondence (pertaining to their address or other details) in that time period their claim is null and void.
When, due to circumstances beyond our control, a prize is not available, Today FM reserves the right to substitute a prize of equal value.
From time to time the station may offer a cash alternative to a specific prize, but is under no obligation to do so.
Today FM accepts no responsibility for failure due to circumstances beyond our control, to fulfil a competition, which involves a third party but has no specific cash value, e.g. meeting an artist. We will however, on all occasions strive to provide a substitute prize of equal desirability to the winner. Unfortunately, the company cannot accept responsibility if these attempts do not meet a prizewinner's expectations.
In on air competitions, failure to appear on air will unfortunately disqualify an entrant whether this occurs due to operator error or other technical errors.
The prizes will be subject to any additional terms and conditions of the supplier of the prize to the Promoter.
The Promoter/Todayfm shall not be liable for any loss, damage or consequential damage of any nature whether in contract, tort including negligence or otherwise caused by acceptance of these terms or in connection with the Prize or the Competition.
In the event of unforeseen circumstances the Promoter/Todayfm reserves the right to amend or withdraw the Competition without notice.
These terms and conditions shall be governed by Irish law and the courts of Ireland shall have exclusive jurisdiction.
Any person or persons found to be in disregard of any of the above rules will be disqualified automatically. 100-102 Today FM reserves the right to disqualify any contestant for any reason whatsoever in its sole discretion.
We wish you lots of luck entering our competitions.
We are grateful to our listeners for supporting the station, and are keen that there should be a fair distribution of prizes amongst all listeners. For this reason, on very rare occasions, it may be necessary to restrict a particular listener from winning successive prizes on the station .
** To this end - we have compiled a winners database for internal office use only **
Any queries relating to competitions or prizes should be directed to the Promotions Department at Today FM, Marconi House, Digges Lane, Dublin 2.
Mandatory RWC T&Cs:
Each winner and his/her guest(s) as applicable agree to comply with the terms and conditions applicable to the issue and use of tickets from time to time (as available and set out at https://info.tickets.rugbyworldcup.com/tickettc-e/ or such other webpage as determined by Rugby World Cup Limited ("RWCL") from time to time), the tournament organiser (Japan Rugby 2019, "JR2019") and all applicable venue owner or operator rules and regulations to access Rugby World Cup venues and any other areas associated with Rugby World Cup (including any terms of accreditation determined by RWCL). Further each winner and his/her guest(s) acknowledge that he/she may be required to enter into a direct acknowledgement and/or agreement with RWCL and/or JR2019 concerning use of the tickets and compliance with ticket terms and conditions prior to receiving the prize.
The Promoter may pass personal information relating to prize winners to RWCL and/or JR2019 (and any of their service providers or agents) for the purposes of monitoring the distribution and use of Rugby World Cup tickets and related experiences and, in the event of a suspect breach of any terms and conditions, rules or regulations of RWCL and/or JR2019 relating to the use of such tickets and/or experiences, investigating and taking action against such winners.
Winners and/or guests shall not, while using Rugby World Cup tickets, display or publicise any political slogans or homophobic language, images of a lewd or explicitly sexual nature, images containing logos of competitors and overt brand sponsorship or anything else deemed to ambush marketing or an abuse of the Rugby World Cup, content which is defamatory, obscene, illegal, vulgar, offensive or otherwise unsuitable or infringes others' rights (including intellectual property rights) or reflects negatively upon any of RWCL or the Rugby World Cup. Each entrant agrees and acknowledges that any breach of this clause will cause significant damage and loss to RWCL.
This promotion is run by the Promoter with the permission of RWCL. Accordingly, the Promoter is responsible for the operation of and all matters and concerns relating to the promotion, not RWCL or any other persons involved in staging of Rugby World Cup 2019 (including JR2019) and World Rugby (formerly the International Rugby Board), all of whom shall not be responsible for or liable to entrants in any way whatsoever in connection with this promotion.