Introducing the Today FM School of Radio & Podcasting: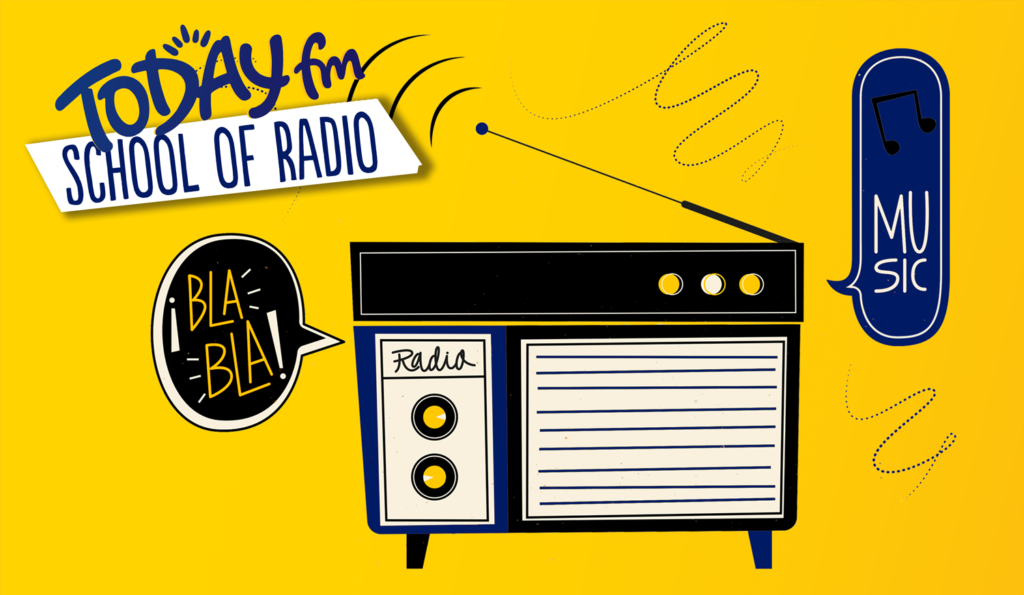 Latest News:
The next Today FM School of Radio and Podcasting course will begin on Wednesday September 30th 2020
You'll learn how to produce, present and edit your own shows and podcasts from award-winning Today FM talent like Alison Curtis, Fergal Darcy, John Duggan, and many more.
We're also giving one lucky participant the chance to join a specially-designed mentorship programme in Today FM. Whoever comes up with the next 'big idea' for Ireland's most-loved radio station will be joining the team for a period of time, and learning about radio and podcasting from the people who do it best.
Places are filling up fast; to secure yours just drop us a line - all contact details at the end of this page.
What is it?
The Today FM School of Radio & Podcasting, in association with Independent Colleges Dublin, is a dynamic and highly practical training unit, designed to equip aspiring media professionals with everything they need to know about creating world class content. Whether you want to work in traditional media, digital media, or create cut-through content for your own company or personal brand, this course has you covered. 
Designed and coordinated by Patrick Haughey, Podcaster and Producer of Mario's Sunday Roast on Today FM, this course is for people who want to learn all about radio and content, but who don't have the time to dedicate to a full-time programme.
Delivered by highly experience radio professionals, all of whom currently work in Ireland's leading national commercial broadcaster, the course will bring students face to face with some of the country's top radio professionals, including: Fergal Darcy, Alison Curtis, Phil Cawley, John Duggan, and many more (see course outline HERE for full line up)
The course is designed to be as practical as possible, combining highly practical class exercises that mirror everyday radio scenarios, and guest speaker presentations. Students will also receive their own Zoom digital recorder to use throughout the course and keep afterwards. Key skills learned over the first nine weeks of the course are then put in to action in week ten, as students come to the Today FM studios and record an 'as live' radio show of their own.
What will you get out of all this?
A detailed knowledge of the key areas of the radio industry, what each area involves, and what it takes to get your foot in the door.
The opportunity to meet and work in-class alongside key Today FM staff, including Fergal Darcy, Phil Cawley, Alison Curtis, John Duggan.
Core skills needed to create engaging content – defining your audience, story-telling, finding great guests, interview skills, audio editing, and much more.
A portfolio of work displaying presentation and editing skills, that the student can present when applying for radio jobs
Studio time in Today FM, where you will put together and record an 'as live' radio show, under the supervision of Patrick Haughey (Senior Producer, Mario's Sunday Roast), and Mary Carroll (Senior Producer of The Last Word on Today FM)
Will you get a job in radio after doing this course? Obviously, we can't guarantee that you will, but over the last five years many of our former students are working across Ireland's local and national radio stations. Many have also gone on to create successful podcasts and others have used the skills learned to build their own company and personal profiles.
Past Students Working in Radio:
Doireann Garrihy – Presenter of the 2fm Breakfast show and 'The Laughs of Your Life' podcast

Clara Kavanagh, Weekend Producer, Today FM

Daniel Cahill – The Last Word with Matt Cooper, Today FM

Shane Hannon, Producer, Off the Ball, Newstalk

Conor Thompson, Presenter, iRadio

Shelly Gray, Presenter, Today FM

Julie Gartland, Presenter of the Sunday Takeover, Beat 102 103

Aidan McKelvey, Producer, Newstalk 106-108

Jason Collins, Presenter KFM & 8radio
The topics we'll be covering:
An overview of the radio industry.
The anatomy of a radio station.
Learn how to use your digital recorder.
Presenting a music show – picking the music, filling the gaps, and learning how to develop your voice.
Presenting a talk show – the preparation and execution of a great interview.
Producing a talk show – developing a successful relationship with your presenter, and handling the pressure of directing a live show
Essential research skills – how to find and pitch great ideas, pre-interviewing guests, and briefing your presenter.
The Newsroom – picking the stories, and reading live bulletins.
Digital editing techniques.
Podcasting – formats, platforms and equipment.
Our final thought for the day...
No matter what area of radio you want to work in – presenting, production, sales, or marketing – a basic understanding of how all of the various 'parts' of a radio station work is essential.
The Today FM School of Radio & Podcasting will give you this key knowledge, in a highly practical, relevant and creative way.
You will also leave the course with a portfolio of work (recorded interviews and voxpops, presenter briefs, editorial pitches etc) that you will give you a solid advantage in future job interviews.
And don't forget the Zoom digital recorder that's yours to keep as part of the course – an essential piece of equipment for working in radio.
Go on! Get involved and follow your dream!" - Declan Ralph, graduate
Where do I sign up?
For further information about the course, fees and syllabus please visit the course page on IndependentColleges.ie or alternatively email info@independentcolleges.ie or call 01- 6355800
[It] helped reignite my passion for the medium and gave me the confidence to pursue a job in radio" - Meghan O'Connor, graduate