Do you want to get in the mix?
Are you the special ingredient to rise above the rest and be a showstopper?
Well you knead to enter the Little Baker competition on Weekend Breakfast with Alison Curtis!
We have joined forces with Children's Health Foundation supported by Gem to bring you a chance to get in the kitchen and cook up some treats to win prizes every week. ( A fantastic Gem hamper)
TO SEE HOW YOU CAN ENTER JUST SCROLL BELOW
Each week we will upload the weekly finalist - who will will a Gem hamper and be in the draw for the fabulous Kenwood mixer!
The challenge for NEXT SATURDAY 24th April (deadline Thursday 18th) - The challenge is simply COOKIES!! Any kind. Get creative! Become a Cookie Monster! ;-)
This week's winner Saturday 18th April is 11-year-old Alanah Earle who made a chocolate pie with meringue - blue - called 'Pie in the Sky' with little pastry airplanes on top!
This pie is flyin' it!! 🤩✈️🥧

Well done to 11-year-old Alanah Earle who won week 2 of #LittleBaker comp on #WeekendBreakfast with @AlisonTodayFM

Judges @AisLarkin & @ChefShaneSmith loved her 'Pie In The Sky' 🏆🙌🏼

✍🏻👉🏻https://t.co/Vp8RuPUuz9 pic.twitter.com/NGH9LjpHnh

— Today FM (@TodayFM) April 17, 2021
This weeks winner Saturday April 10th is Meabh Walsh Age 11 Glanmire Co Cork
What the world kneads now is cake, sweet cake! 🍰🧁

Congrats to Maebh Walsh from Glanmire in Cork who is the first winner of the #WeekendBreakfast #LittleBaker competition. 🏆#GreatIrishBake @CMRF_Crumlin

The wafer fence and sweet flowers! 😍🙌🏽 pic.twitter.com/oHo4hvfWAT

— Today FM (@TodayFM) April 10, 2021
Here are some of the AMAZING runners-up: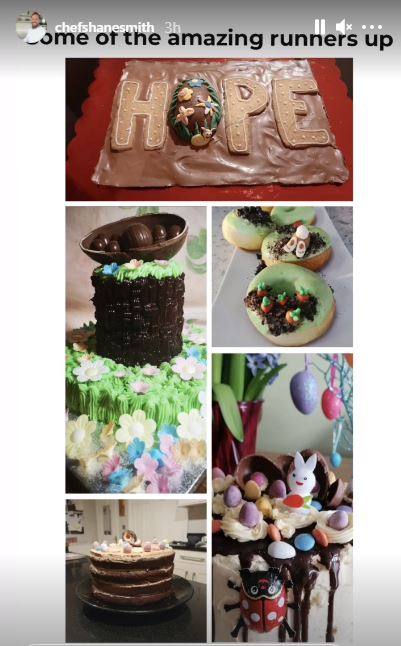 The challenge for NEXT WEEK Sat 17th is called "A piece of Pie"  It is set by Judge Shane Smith who says
"this can be a pie of your choice, sweet or savoury. Just go for it!"  The deadline for entries is Thursday @ Noon) 
Send to alison@todayfm.com with Little Baker in the subject.
HOW DO I ENTER?
All you have to do is grab the Little Bakers you've raised and get creating!
Listen to Weekend Breakfast every Saturday for your challenge. Our guest judges are the wonderful pastry chef Shane Smith and Aisling Larkin TV cook and food writer.
Each week either Shane or Aisling will set a bake off challenge on Sat morning - we would then ask you to have photos of your entries and a bit of info about them sent in to alison@todayfm.com by noon on the following Thursday.
This will also get you practicing for the Great Irish Bake. Save your bakes and get involved with this! Win Win!!
GREAT IRISH BAKE 
Get ready to bake, all to help raise vital funds for sick children in Ireland.
Children's Health Foundation's Great Irish Bake for Crumlin & Temple Street, proudly supported by Gem, is one of Ireland's biggest baking events and it couldn't be easier, or more fun, to get involved.
Children in Crumlin and Temple Street Children's Hospitals are counting on us to bring the bake this year!

How Can I Get Involved
Being a part of this important event is really simple, all it takes is a little creative thinking! 
You can host a virtual bake off or a Zoom baking tutorial or sugarcraft competition or any other way you can get creative with baked goods.
Get your friends, families, communities and co-workers on board to raise vital funds to support sick children in CHI at Crumlin and Temple Street.
Register HERE for your free Great Irish Bake Kit, jam-packed with everything you need to make sure your bake off is a huge success.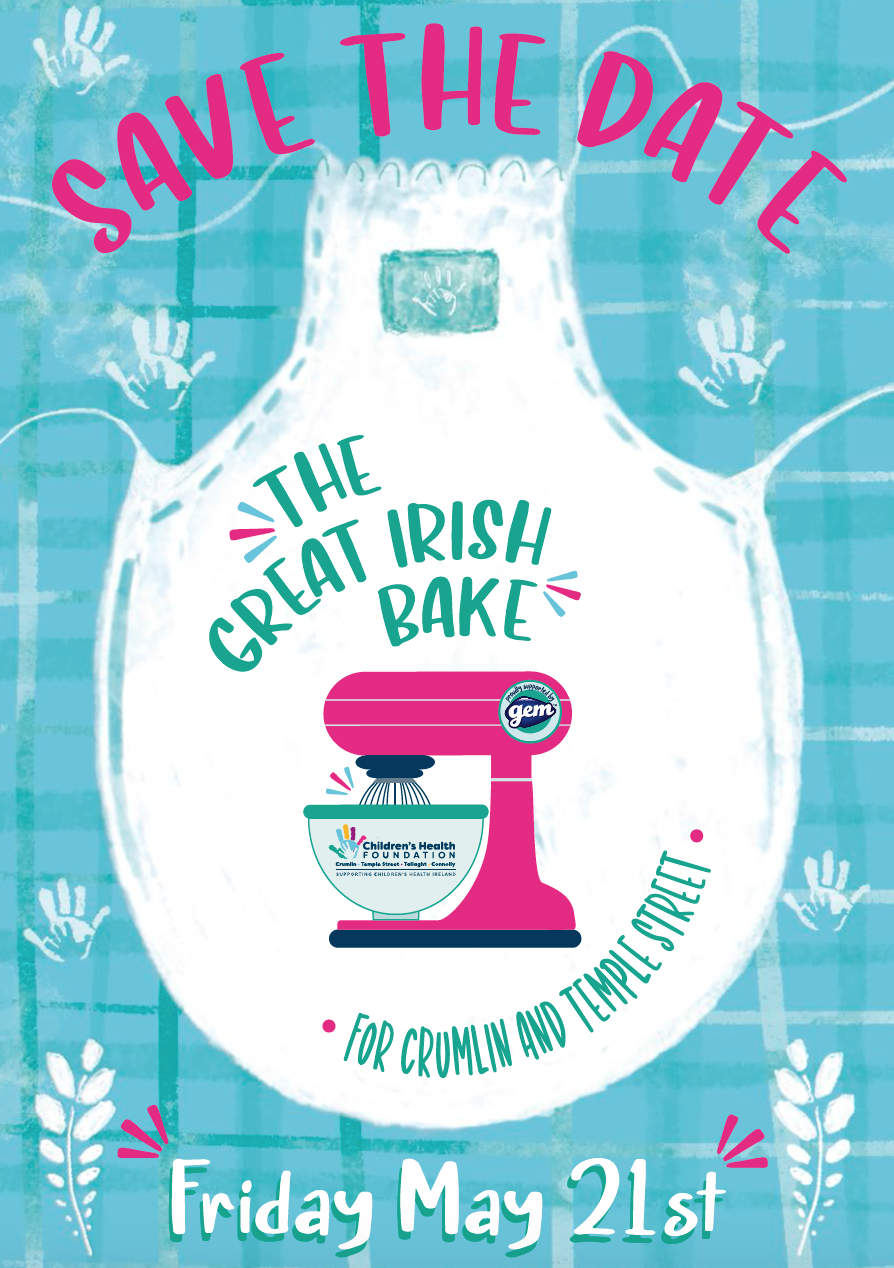 Supporting the Great Irish Bake
Funds raised from this year's Great Irish Bake will go to work to fund vital and life-saving equipment in CHI at Crumlin and Temple Street.
Every year, around 300,000 children need the world-class care that only the teams in Crumlin and Temple Street hospitals can provide.
Their vision is to give every sick child the very best chance.
Head here to support The Great Irish Bake and help make a real difference today.