Start the new year right
The New Year always offers an opportunity to shake off the excess of Christmas and jump start a healthier mindset. Irish Life Health 'Runuary' is back for 2022, encouraging all fitness levels to get back into the routine of regular exercise.
It's easy – set an attainable personal goal of 5KM, 5 miles or 10 miles to be completed on January 31st – and hit the ground running!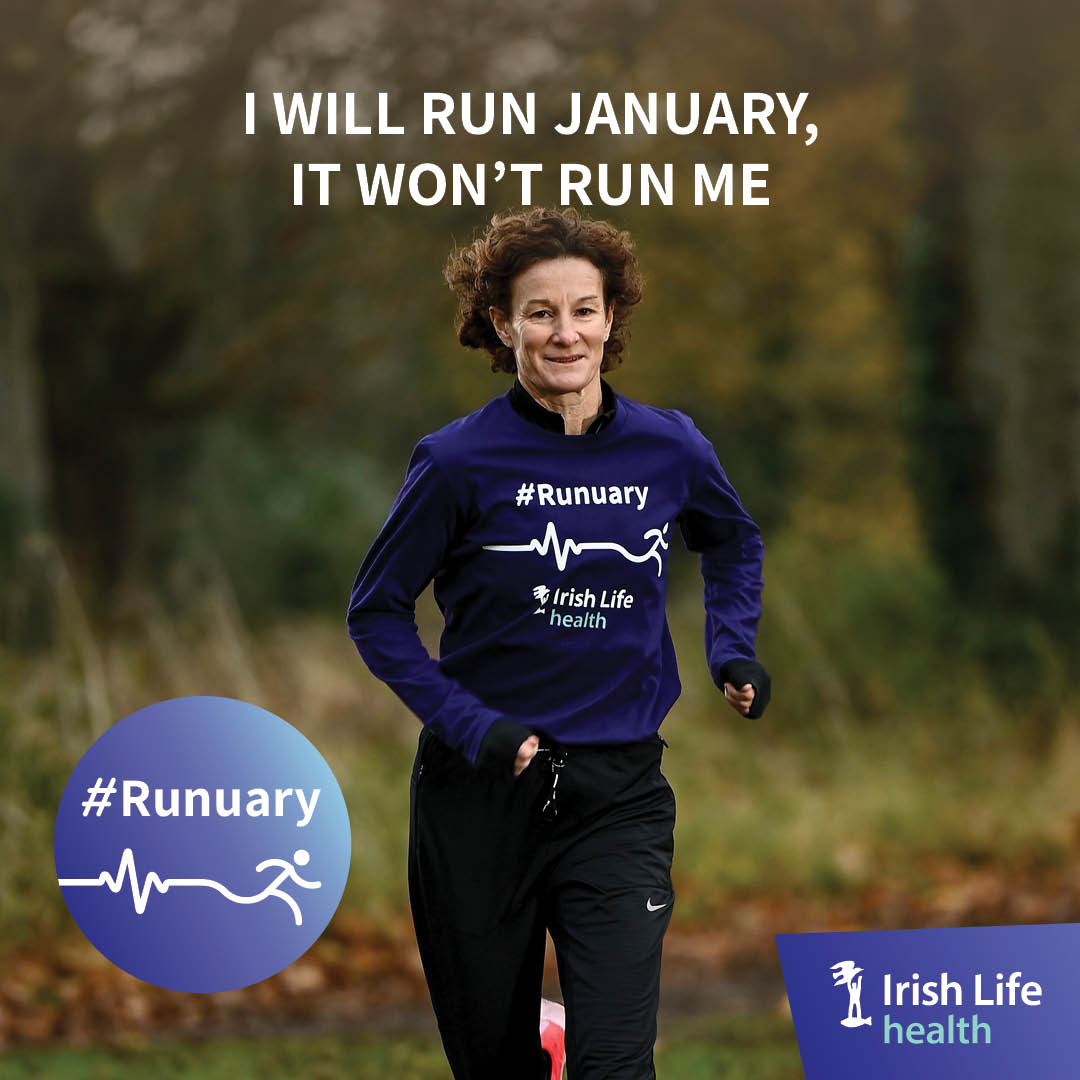 Run January, Don't Let it Run You
Another year of restrictions saw thousands of us take up jogging and running as an easy way to ease stress and keep mobile. This number has steadily declined over the months, so Irish Life Health has identified January as the perfect time to start afresh.
Jessie Barr Team Ireland performance sports psychologist states: 'Getting back into healthy habits after the Christmas period though can be difficult.  But focusing on setting realistic and achievable goals and finding ways to make running enjoyable again, can help boost motivation'
Irish Olympian Sonia O'Sullivan is also backing the campaign and is quick to recognise the benefits of focusing on an achievable endgame: 'By making the habit of running a goal you'll feel really satisfied with what you have accomplished by the end of the four-week challenge"
Do something good and feel great
The thought of taking up running, or trying to get back into it, might seem daunting but Irish Life Health Runuary has the tools to support you on your journey. Once you sign up at irishlifehealth.ie/runuary, you can avail of a number of tailored programmes. You can also access tips and advice from a panel of experts including a physiotherapist, nutritionist and Athletics Ireland qualified running coach.
Whilst getting out and getting fit is a good cause in itself, you will also be supporting a great charity! For every individual who signs up for Runuary, Irish Life Health will donate €2 to ALONE, who work tirelessly to help end the silent epidemic of loneliness and social isolation amongst our elderly. This year's goal is to surpass the €10,000 raised in 2021.
Take the first steps now
Before you settle into your Christmas feasting, take the first steps towards a healthy New Year for mind and body. Today FM's Pamela Joyce took part last January and felt a boost in her wellbeing.
She says: 'Runuary was incredibly beneficial for me mentally. We had just entered a tough round of restrictions and I knew I wouldn't be seeing my family for a while. So it helped me keep a clear mind and it was a great way to process my emotions'.
Even though the days were cold, Pamela says that once she was out and warmed up she was loving it. So much so that she'll be back for this year: 'I'm currently recovering from hip surgery and should be ok to run by January. So I am chomping at the bit to get started!'.
To sign up for free to Irish Health Runuary, head to www.irishlifehealth.ie/runuary