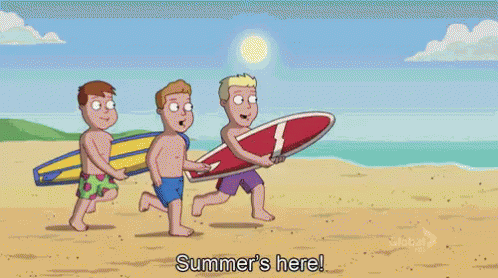 Dare we dream? We've been burned before but maybe, just maybe, we will be burned in the right way as the weather wizards are predicting that Ireland is set to sizzle in 18 degrees of pure sunshine this week.
With this in mind Dec asked listeners to suggest their Welcome Summer Songs and they came in with some scorchers...
'Gala FREE FROM DESIRE for Garret in sunny BarBRAYdos '
'Dec/ed, it was august 2004, me and the wife were on honeymoon in Miami and every hour Fat Joe 'Lean Back' was on the radio in the car! Still love that song cause of the memories it brings back, Fergal'
'just thought of perfecto allstarz reach up (pigbag) now there was a summer song if ever there was one and again from the 90's !! jay '
'Hey Dec/Ed for me it's Springsteens Born in the USA the first song he played in Slane in 1985 the only sunny day we had that year. Liam in cork '
' Dj Pied Piper - Do You Really Like It
Nalin and Kane - Beachball
Faithless - We Come 1
...They all remind me of summer'
'Boys of summer Don Henley .  Pure class. Summer of 85/86?  Lorraine in Meath'
'Self esteem the offspring pure summer song Paddy Wicklow '
'Hey boys hey girls chemical brothers 1999 at glastonbury it was the first one in years it didnt rain dom in balbriggan'
'Ultimate summer tunes. Drinking in LA. Bran van 3000. Emily Newbridge '
'ah lads theres so many, but im always reminded of saturday nights in the summer back in the 90's on the lash in dun laoghaire when ever i hear faithless insomnia, great days jay dublin'
'Len steel my sunshine summer 1999 I was serving in Lebanon with unifil and took my leave in ayia napa Cyprus epic summer Robbie Drogheda'
'My two songs that remind me of summer are the boo radleys wake up boo and ocean colour scene day we caught the train. From L in clonmel. '
'His lads  CHICANE OFFSHORE pure summer time classic , class tune as well rolling back the years from Colm in drumcondra'
We made up a suntastic Spotify playlist of the suggestions and threw a few of our own faves on the tune BBQ too...