A New Hope!
Gorgeous.
This is Audrina and she's four years old. She has been receiving treatment for an aggressive form of cancer and she has been kicking it's ass!
She is also a HUGE Star Wars fan.
Just look at THAT stride!!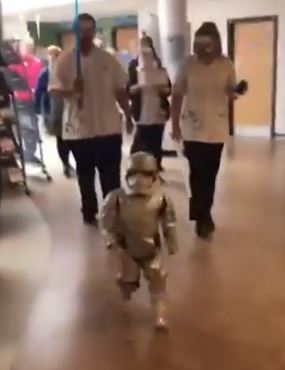 After finishing fourteen rounds of radiation treatment. FOURTEEN. What a superhero. Here she is at Nottingham Children's hospital dressed as a diddy Stormtrooper skywalking to ring the bell that tells everyone she is finished her treatment.
What a little star!
Here's the bravest little stormtrooper you'll ever come across! ❤❤❤ pic.twitter.com/q3zVVN7GsQ

— Metro (@MetroUK) 5 May 2019