There are 1,963 new confirmed cases of COVID-19 in Ireland today, the Department of Health has confirmed. 
500 people in hospital have tested positive for the virus, of whom 93 are being treated in intensive care. 
The five-day moving average of cases has fallen slightly to 2,343 - down from 2,389 yesterday.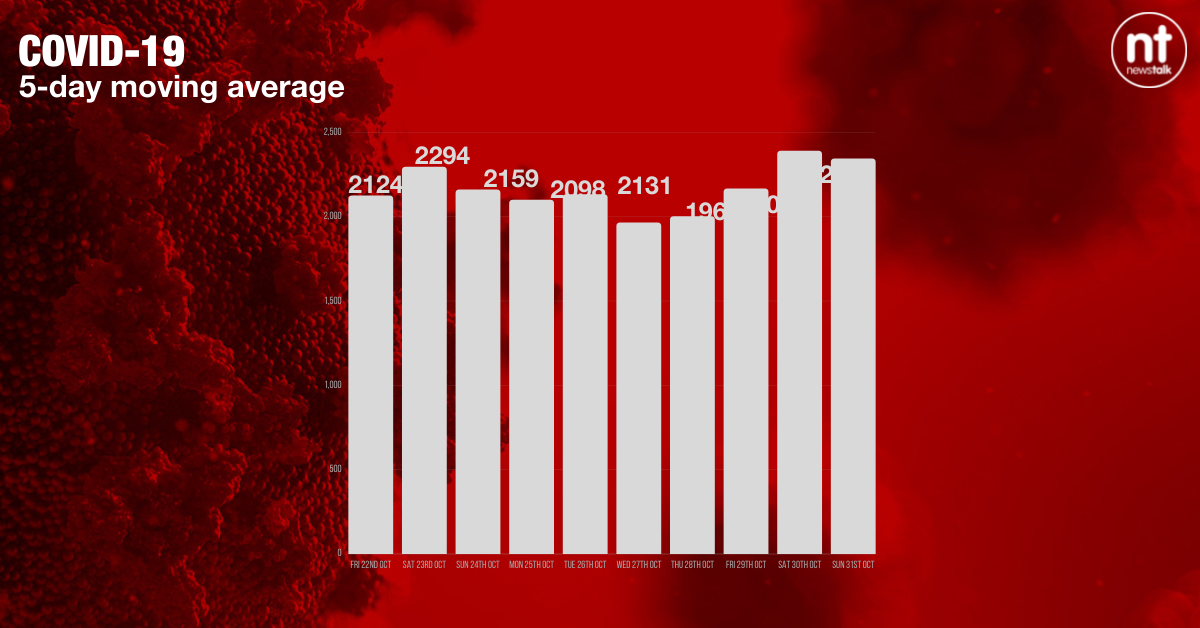 Children
The Department of Health has also confirmed that there is a "high level of incidence of COVID-19 amongst the 5-12 age group". Chief Medical Officer Dr Tony Holohan said: 
"I want to reassure you that, as winter approaches, NPHET continues to monitor the level of incidence of the disease and to closely review the epidemiological data, the international research and guidance and to update our advice accordingly.
"International evidence tells us that, in the vast majority of cases, children who become infected with COVID-19 experience mild symptoms or are asymptomatic.
"The public health advice is based on scientific evidence and the direct experience of the pandemic in Ireland."
Winter
Meanwhile, Professor Ivan Perry from UCC said that the higher number of cases seen recently would put pressure on hospitals over winter. However, the epidemiologist said this winter won't be as bad as the last one: 
"We won't see the exponential growth of hospital and ICU admission that we saw in January because of course the vaccines have blunted the link between case numbers and admissions. 
"But we will start to see increasing pressure on our health system in the next few weeks." 
Professor Perry said there were a number of practical things the Government could do to contain the spread of the virus: 
"As well as calling on people to exercise personal responsibility… the Government [must do] all it can to implement system level changes to reduce our exposure to the virus. 
"Mandatory and enforced ventilation standards in all public buildings and of course maintaining vaccine certs and mask wearing."