We're holding a National Day of Dancing on April 30th for #DareToCare and we need your help!
Get your school, your dance club, your office, your family and your friends involved by setting up a fundraising page and registering your own day of dancing fundraisers here: cancer.e/daretocare no matter where you are in the country.
Simply follow these simple steps:
Make sure you have registered your dance at: cancer.ie/daretocare
Personalise your Justgiving page - tell your story!
Plan your dance – dance it solo or gather your squad.
Collect donations!
Be a Dancer for Cancer It's as simple as that!
If you can't commit to April 30th you can hold your fundraiser on any day before or afterwards and still donate!
Head HERE to download your poster for your event to help spread the word!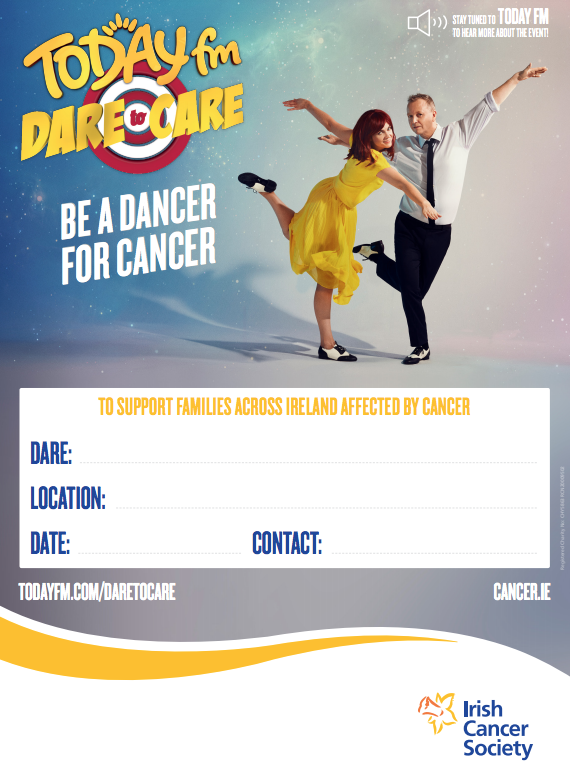 The More The Merrier
If a group of you want to fundraise together simply follow the steps below:
To set up your team page, get your team leader to follow these simple steps
1.    Register for your Justgiving page here
2.    Log in to your JustGiving account
3.    Click on your name on the top right hand corner and select the 'Your fundraising' tab
4.    Click Start a new team
5.    Enter the details of your team page
6.    Click Make a team page
7.    Invite your team members to join!
You can also call the fundraising team on CallSave 1850 60 60 60 and donate/lodge your funds by debit or credit card.
If you have any questions you can get in touch with the fundraising team at the Irish Cancer Society on CallSave 1850 60 60 60 or by emailing fundraising@irishcancer.ie
You can also drop a cheque or bank draft in the post with your name, address
and supporter number to the Irish Cancer Society at:
43/45 Northumberland Road,
Dublin 4.
All cheques must be made out to Irish Cancer Society.
Text donation
At any time at all, you can pick up your phone and text the word DARE to 50300 to donate €4 to the Irish Cancer Society.
Text costs €4. Irish Cancer Society will receive a minimum of €3.60. Service Provider: LIKECHARITY. Helpline: 076 6805278
More information
Where does my money go?
€60 will cover the cost of a counselling session to help a person cope with a cancer diagnosis in their life
€75 will provide in-depth consultations on our Cancer Nurseline for three people
€120 pays for five Spill Kits for Volunteer Drivers in the event a patient is ill in their car
Irish Cancer Society Night Nurses ensure that families of patients and their loved ones remain in the comfort and dignity of their own home.
€306 provides one night of care for a patient during the last days of their life.